NH Zip Line Tours
Tree Top Canopy Tours & Zip Line Rides

New Hampshire is great choice for a tree top tour or Zip Line Ride. In fact New Hampshire Zip Line tours is a growing outdoor adventure sport.  We suggest a visit to Alpine Adventure Tours in Lincoln for a thrilling Zip Line tour and other adventure activities.  In the White Mountains you can cruise the Tree Tops when you visit the Zip Line Tour at Bretton Woods Mt. Washington Resort. Whether you are into Rock Climbing, Zip Line Riding, Kayaking, River Rafting, Hiking, or Mountain Biking, or during winter; Ice Climbing and Snowmobiling, New Hampshire has something for everyone seeking just about any kind of "extreme sport" or adventure sport. Ask us about NH Canopy Tour or share Zipline comments. To feature your business, contact us.


Alpine Adventures, 41 Main St, Route 112, Lincoln, NH 03251 | 888-745-9911
Zipline canopy tours with 2 courses to choose from, with 14 total ziplines, ropes bridges and plenty of exhilaration. Professionally guided, 2 hour tours offered year round, winter gear provided. Check out the Safari tours in 6-wheel Pinzgauers and guided snowmobile tours.
Visit Alpine Adventures
---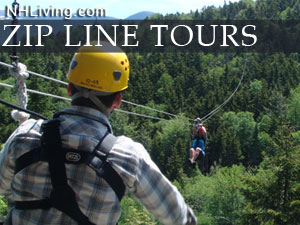 Thinking about a Zip Line Ride? An excellent White Mountain Zipline Adventure Tour may be found in Lincoln at Alpine Adventures Outdoor Recreation. This company has been in the forefront of outdoor adventure fun in the Granite state since 1997. The Treetop Canopy Tour was the first in New England in 2006 and the Sky Rider Tour was added in 2008, reaching extreme heights and maximum exhilaration. There are 2 courses with 14 total ziplines and several bridges. Zipline tours are available year round at Alpine Adventures.
One of the fastest growing adventure sports is Zip riding or Zip Line Riding. This awe-inspiring sport involves riding or "zipping" through the woods on a "zip line" that is secured to your body. The sport can be enjoyed by all ages, involves little equipment, and is truly exhilarating. Participants aged 8 to 80 describe the experience as "soaring, awesome, cool".
Another New Hampshire White Mountain Zip Line Ride is located at Bretton Woods at the Mount Washington Resort on Route 302. They call it Bretton Woods Canopy Tour. Many Zip Rides across the country are referred to as Canopy Rides or Canopy Tours because you cruise at the top of tree level and are rewarded with a tree canopy view. At Bretton Woods your line reaches 1000 feet of elevation, the tour takes nature-lovers and thrill-seekers across a series of tree-top zip lines. They claim it is the longest zip line canopy tour in New England. The Bretton Woods Canopy Tour provides exceptional views and the tour concludes with the Williwaw Racing Zip, a dual, side-by-side zip line that leads right to the base area of Bretton Woods. The Bretton Woods Zip is unique in that once on the tour, an Adventure Guide describes the native flora and fauna, and tells about the areas natural history and White Mountain lore. Bretton Woods in one US Route 302.
Find another White Mountain NH Zip ride ride location at Wildcat Ski Area. Wildcat calls it the ZipRider™. Soar like an eagle 1/2 mile over tree tops, ski trails, and a river, on a zip-line cable at 45 miles per hour. The Wildcat ZipRider™ now offers 4 cable lines and is open for daily operations (weather permitting) through mid-October. Ticket sales begin at 9:30 a.m. and rides begin at 10:00 a.m. at the ticket office of Wildcat Ski Area. Wildcat is on Route 16 about 30 minutes north of North Conway, NH.
In the  NH Lakes Region you'll find Zip line worth riding at Monkey Trunks Zipline and High Ropes Adventure at 579 Endicott Street, Weirs Beach, NH. Call them at 603-367-4427 for zipline ticket info and hours.  The sport of Zipline Riding or Canopy Riding is new, so you can still be the first of your friends to experience it and there is no better place to Zip Line than right here in New Hampshire.
Read about zipping in New Hampshire.
NH Lodging Guide | Weddings
Products | NH Town Guides
Free World Mall

Country Weddings | New England Recipes
NH Inns | Boston Red Sox Gifts | Travel Destinations