Two Ziplines in One Summer
NH Zipline Rides Extreme Sports Canopy Ride Tours – Outdoor Adventure Sports

NH is the home of great Zip Line Rides. One of the fastest growing adventure sports is Zip Line Riding. This awe-inspiring sport involves riding or "zipping" through the woods while suspended in a body harness from cables that are tethered between trees. Zipping involves little equipment, minimal training, and offers quite the adrenaline rush. This summer I had the pleasure of experiencing two different NH zip tours – the Alpine Adventures Treetop Canopy Tour in Lincoln and the Bretton Woods Canopy Tour at Omni Mount Washington Resort. Ask us about NH Canopy Tour or share Zipline comments. To feature your business, contact us.


Alpine Adventures, 41 Main St, Route 112, Lincoln, NH 03251 | 888-745-9911
Zipline canopy tours with 2 courses to choose from, with 14 total ziplines, ropes bridges and plenty of exhilaration. Professionally guided, 2 hour tours offered year round, winter gear provided. Check out the Safari tours in 6-wheel Pinzgauers and guided snowmobile tours.
Visit Alpine Adventures
---
Located in Lincoln, Alpine Adventures Outdoor Recreation has been at the forefront of outdoor adventure fun in the Granite State since 1997. Opening in 2006, The Treetop Canopy Tour was the first New England zip tour and due to its popularity, Alpine Adventures quickly added the Sky Rider Tour in 2008, reaching extreme heights and maximum exhilaration.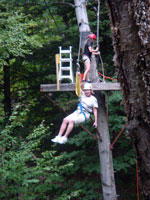 This summer, my friends and I signed up for the Treetop Canopy Tour and began our adventure. Once we had geared up with the necessary helmet and body harness, we were bussed a few miles from Alpine Adventures headquarters to the zip tour site. Upon arrival at our destination, we were told to don our helmets, buckle our seatbelts, and prepare for a bumpy off-road ride in one of Alpine Adventures unique 6-wheeled Pinzgauer all-terrain vehicles. They weren't kidding about the helmets or the seatbelts! Our guide drove us up cliffs, over mounds and into gullies – all before we began the ascent to the top of the mountain.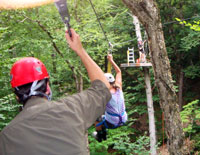 With 6 ziplines, 2 sky bridges, and 4 well-trained guides, the Treetop Canopy Tour is a fun 2 – 3 hour ride in beautiful surroundings. There is very little effort or skill required by participants – the guides control your speed, brake as needed, and catch you when you come in for a landing at the platforms.
By far my favorite, the final (optional) and most famous line of the canopy tour is an amazing rush and well worth every minute of the tour. Zip #6 drops you into freefall before you are caught by the cable and shot out at speeds reaching 35 mph. It is the only line of the tour where you are allowed to run and jump off the platform, and I highly recommend doing just that if you're a thrill-seeker!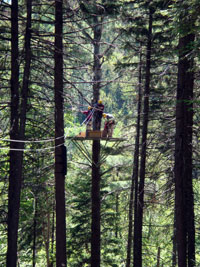 With 9 different zip lines, 3 rappel descents and 2 sky bridges, the Bretton Woods Canopy Tour covers over 1,000 feet of elevation and takes approximately 4 to 5 hours to complete. Your tour starts at the base of Bretton Woods ski resort, where you are given a helmet, hardy gloves and the 5-point harness system you will wear while zipping. Group tours are usually no larger than 8 people and once you've been harnessed, you are driven to the top of the mountains. Once you arrive at the top, the first order of events includes a quick de-briefing of the zip system, how to control your body and how to brake with your hands. You get one practice run before the tour starts and you are adventuring your way down the mountain.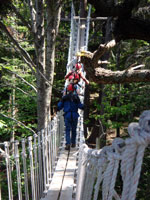 The Bretton Woods Canopy Tour adventure guides are not only well-trained, but competent, attentive, courteous and hilarious – making the experience even more memorable. In addition to keeping the tour fun, your guides describe the native flora and fauna, as well as the area's natural history and White Mountain lore.
The longest, highest and fastest line on this tour soars over 160 feet off the ground and you feel as if you're touching the tops of the trees with your feet while absorbing the gorgeous views of nearby Mount Washington. This line was by far my favorite and, although not allowed, I was more than willing to hike back up the mountain and climb a tree so I could do it again!
NH Lodging Guide | Weddings
Products | NH Town Guides
New England Living
Free World Mall

Country Weddings | New England Recipes
NH Inns | Boston Red Sox Gifts | Travel Destinations