The Rocks Estate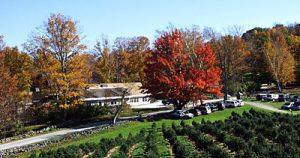 4 Christmas Lane, Bethlehem, NH • Ph: 603-444-6228
Built in the 1800's, The Rocks Estate is today a conservation and education center for the Society for the Protection of New Hampshire Forests. Conveniently located just off Route 302, The Rocks Estate offers year-round activities from Christmas Tree Cutting and Horse-Drawn Sleigh Rides to Maple Sugaring workshops, craft shows, school programs and customized tours.
Category: Botanical Garden, Park, Historic Site
Rate this Attraction: Roll over star and click to rate 
Review
"Nestled in the sleepy town of Bethlehem, NH, The Rocks Estate is a Christmas Tree Farm. The property also houses the North Country Conservation & Education Center for the Society for the Protection of New Hampshire Forests, which means that there are ample hiking trails and regular educational events for children and adults alike on their premises. When we were visiting New Hampshire on vacation we decided to stop here for some nature walks/hiking that we figured would be less arduous than many of the mountain hiking trails. We were pleasantly surprised at how absolutely stunning the property is, with a tremendous view of the mountains. We took the Christmas Tree trail which loops through the farm. There were many vantage points with QR codes set up along the way, letting you take a self-guided walking tour using your cell phone. There were also little stations set up where you could put your camera to get great shots of the mountains. We used them to take photos together using my camera timer. This absolutely adorable, stunning property is definitely worth a visit if you're in the area. I imagine purchasing a Christmas tree from here is a lot of fun in the winter." – Yelp Review
Review
"The Rocks Estate is a protected forest area with miles of marked and groomed trails suitable for hikes in the non-snowy days and for snow-shoe treks in the winter. There is a naturalist on site and frequent lectures and demonstrations scheduled during the year. A great gift shop as well. A wonderful place for families who enjoy walking together." – Trip Advisor Review
To promote your business in NHLiving.com – New Hampshire's Internet Magazine, please contact us.
Share New Hampshire photos on Facebook.
inns | hotels | resorts | rentals | attractions | dining | real estate
NH Lodging Guide | Weddings
Products | NH Town Guides
Free World Mall

Country Weddings | New England Recipes
NH Inns | Boston Red Sox Gifts | Travel Destinations