Story Land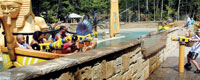 850 NH Route 16, Glen, NH • Ph: 603-383-4186
StoryLand in Glen, NH is a amusement park for families with pre-teenage children.  There are some rides and shows that will appeal to older kids, but the parks main focus is on younger kids. The main theme of the park is based on stories and fables.  Many of the attractions are based on children's books such as the old women in the shoe, the three bears house, Alice's tea cups, and Cinderella's pumpkin.  There are many rides exclusively for smaller children such as the "Little Dreamer's Play Area" which contains a large ball crawl.  Middle-aged youngsters will enjoy the more usual carnival rides such as the flying "Dutch Shoes," Antique cars, and others.  The pre-teens are going to like the more interactive activities such as "Professors Bigglestep's Loopy Lab" where there are soft "Nerf"-type balls that can be shot around along with experiments with air.  They also have the usual spin-till-your-dizzy rides such as the "Turtle twirl" or "Whirling Whale's" that will look familiar to anyone who goes to amusement parks.
Include Me shortcode: file not found
 Please share your StoryLand NH reviews or feature your White Mountain Attraction,  contact us.
inns | hotels | resorts | rentals | attractions | dining | real estate
NH Lodging Guide | Weddings
Products | NH Town Guides
Free World Mall

Country Weddings | New England Recipes
NH Inns | Boston Red Sox Gifts | Travel Destinations