Merrimack Valley NH Biking Trails
Concord Nashua NH Biking – Bike Trails – Mountain Biking

Bike the Merrimack Valley of New Hampshire. The New Hampshire Merrimack Valley is the most populated region in the state however this area provides some very quiet and scenic biking locations. Massabesic Lake and Bear Brook State Forest combine to offer miles of rural bike trails and paths. s a wonderful place for a biking trip. The varied terrain and beautiful scenery provide the perfect setting. The Recreational Rail Trails in this region are a good choice for easy biking paths. Whether a leisurely ride by a lake or something more adventurous is your style it can be found in New Hampshire. Read our article on biking safety. Traveling with a bike? Be sure to put your bike on a bike rack the correct way. Have a safe bicycling adventure. Ask us about NH Bike Trials or share biking comments.
New Hampshire Merrimack Valley Biking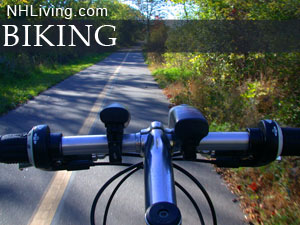 HOPKINTON
Hopkinton-Everett Reservoir
Dunbarton, Route 13
The "Hop-Ev" recreation area is over 8,000 acres and offers advanced intermediate to expert terrain with nearly 20 miles of trails. As a reminder, be prepared for other trail users, this is a multi-use system and is open to ATVs, trail bikes, hikers, and equestrians, too.
Bear Brook State Forest
Allenstown; Rte 28
10,000 acre Park,
Length: 10.1 miles
Phone: 485-9874
Open year-round.
A multitude of trails crisscrosses the 10,000 acre park. Bear Brook offers a varied level of challenges for the mountain biker.
Sewalls Falls
Sewalls Falls Rd. connects to Fisherville Rd. and Mountain Rd. in Concord. The trails are on either side of the road immediately on the west side of the Merrimack River. Sewall's Falls areas are easy enough for the whole family.
Length: 3 to 6 miles
Fremont Rockingham Recreational Trail
Derry trailhead, go south on SR28 for 1.5 miles. At Windham Depot Road, turn right heading west and follow signs. The trailhead for Fremont is on SR107
Length: 18 miles multiuse
22.5 miles, Fremont to Windham Depot. In use, surfaced with a mix of original ballast and earth.
Beaver Brook
117 Ridge Farm
Ph# (603) 465-7787
Length: 35 miles of trails are located throughout the 2,000-acre nature preserve.
Lake Massabesic – Manchester Water Works Trails
Take Highway 101 East to Exit 1. You will find yourself at a traffic circle, go halfway around, and exit on Route 28, the park will be a few hundred feet further on your left.
Length: 14 miles
(Intermediate)
Always a popular riding spot because it is so close to Manchester. Not too many steep hills or serious terrain. If you are spending the day be sure to travel over to nearby Tower Hill or even Bear Brook State Park. This is the location of the annual "Watershed Wahoo" MTB race.
Sunset Ridge Loop
From Rt. 101 take exit 1, north on Rt.28 by-pass, left onto Wellington Rd. After 2 miles turn left onto Eastern Ave. and then left onto Old Wellington Rd, then right onto Karatzas, and follow to the end of the pavement. Trailhead is on the left.
Length: 2 – 3miles
(Intermediate single and double tracks)
The gravel fire road drops down the hill about 100 yards before you get to ledges or a single track. Trails mostly loop back to the area that you started from. Some ledge riding with fun jumps alongside 101. A good downhill run that twists and turns down through a grove of Oak trees and boulders with one 5-foot drop, that can be circumvented if you're not up to it. Once down on the flat, cross the brook into some old-growth white pine for a fast loop. You can also exit the trail here into the Governor's Hill Housing development. Work your way back up the hill and stay to your right there are a couple more trails that follow old field berms with lots of dips and mounds in the trail
Back River Road
Take Route 3 South to exit 12. Once you exit, turn left at the light and then take your first right onto Back River Road. Proceed for .5 mile down Back River Road, the trail starts just after the first building on the right.
Length: 5 miles
(Advanced- Trails are rugged)
Mine Falls Park
Take exit 5 A, off Everett Turnpike, follow the loop around, toward Simon St., take Whipple St. – Or you can go 111 West through Nashua, go past Main St. and before you get on the Everett Turnpike, take Simon St. on the right to Whipple St.
Soccer Fields – 7 to 8 professional fields
325 Acre park, nice hiking & walking along Merrimack River.
Length: 20 miles of multi-use trails.
Partially Paved – Great ride with kids.
(Beginner/Advanced)
Northwood Meadows State Park
Off of NH Rte 4
Length: 5.5 miles
Ph# (603) 436-1552 
This park is really excellent for the beginner and for family riding. There are trails around Meadow Lake and farther afield.
Pawtuckaway State Park
Rte 156 & Mountain Rd.
5600-acre park
Length: 15 miles
(Beginner/Advanced)
Ph# (603) 895-3031
This park has over 5,600 acres to explore and all levels of riding terrain are offered.
Clough State Park
77 Trail
Trailhead parking at Everett Lake is 5 miles east of Weare on Everett-Mansion Road
Length: 6.6 miles out & back route.
NH Recreational Rail Trails
(Boscawen-Lebanon)
59.3 miles
Manchester/Lawrence Recreational Trail 
(Salem-Windham)
5.4 miles
(Londonderry)
3.3 miles
Rockingham Recreational Trail, Fremont Branch 
(Route 107 Fremont-Route 28 Derry)
12 miles
inns | hotels | resorts | rentals | attractions | dining | real estate
BIKE SALE – More at FREE WORLD MALL

| Photo | Title | Price | Buy |
| --- | --- | --- | --- |
| | Mongoose Argus Sport Adult Fat Tire Mountain Bike, 26-inch Wheels, Tetonic T2 Aluminum Frame, Hydraulic Disc Brakes, Large Frame, Black | $813.08 | ON SALE NOW |
| | Schwinn Traxion Mens and Womens Mountain Bike, 29-Inch Wheels, 24-Speed Shifters, Full Suspension, Mechanical Disc Brakes, Blue/Grey | $529.82 | ON SALE NOW |
| | Mongoose Salvo Trail Adult Mountain Bike, 29-inch Wheels, 18-Speed Trigger Shifters, Lightweight Aluminum Medium Frame, Disc Brakes, Orange | $1,105.89 | ON SALE NOW |
| | Mongoose Status 2.4 Men and Women Mountain, 27.5-Inch Wheels, 21-Speed Shifters, Aluminum Frame, Dual Suspension, Dark Silver | $438.84 | ON SALE NOW |
| | Schwinn Traxion Mens and Womens Mountain Bike, 29-Inch Wheels, 24-Speed Shifters, Full Suspension, Mechanical Disc Brakes, Blue/Grey | $529.82 | ON SALE NOW |
| | Kent KZ2600 Dual-Suspension Mountain Bike, 26-Inch | $399.99 | ON SALE NOW |
| | Outroad Fat Tire Mountain Bike 26 Inch Wheels Adult Bicycle, 21 Speeds Sand Trek Bike, Double Disc Brake Suspension Fork Big Tire Anti-Slip Bikes (Black, 4 inch Width Tire) | $229.99 | ON SALE NOW |
| | Mongoose Switchback Trail Adult Mountain Bike, 21 Speeds, 27.5-Inch Wheels, Mens Aluminum Large Frame,Neon Green | $492.89 | ON SALE NOW |
| | Schwinn S29 Mens and Womens Mountain Bike, 29-Inch Wheels, 21-Speed, 20-Inch Aluminum Frame, Dual-Suspension, Mechanical Disc Brakes, Matte Black | $442.42 | ON SALE NOW |
| | Mongoose Salvo Trail Adult Mountain Bike, 29-inch Wheels, 18-Speed Trigger Shifters, Lightweight Aluminum Medium Frame, Disc Brakes, Orange | $1,105.89 | ON SALE NOW |
| | SAMEBIKE Electric Dirt Bike, 1000W Electric Bike 48V 18Ah Battery 20 Inch 4.0 Fat Tire Electric Bike for Adults, 30 MPH Full Suspension Hydraulic Brakes Color Display Electric Bicycles | $1,599.99 | ON SALE NOW |
| | RUNDEER 750W Electric Bike for Adults Electric Bicycle 20in Fat Tire Bikes, Folding Ebike for Adults with Samsung Battery 48V Front and Rear Shocks Absorption(Gray) | $999.00 | ON SALE NOW |
| | FEOFFY Electric Bike for Adults 350W Electric Bikes 26" Electric Mountain Bike Shimano 21 Speed Gears Electric Bicycle 36V 10.4Ah Removable Battery,Free Lock (350W36V) | $399.99 | ON SALE NOW |
| | Totem Electric Bike for Adults 26", Electric Mountain Bicycle 350W Motor, 20MPH Victor 2.0 with 36V 10.4Ah Removable Battery, E-MTB with Shimano 21 Speed Gears, Upgraded Adjustable stem-White | $499.99 | ON SALE NOW |
| | Vivi Electric Bike 26" x 4.0 Fat Tire Electric Bicycle, 48V 500W 13Ah Electric Mountain Bike, 25MPH Ebikes for Adults with Removable Lithium-Ion Battery, Professional 7 Speed | $648.99 | ON SALE NOW |
| | Speedrid Electric Bike 48V 500W Fat Tire Electric Bike Snow Bike 26" 4.0, 48V 10.4Ah Fast Charge Removable Battery, Lockable Suspension Fork and Professional 7 Speed | $549.99 | ON SALE NOW |
| | Heybike Sola Electric Bike for Adults 75 Miles Range, 500W City Cruiser Ebike with Torque Sensor, 48V 12Ah Removable Battery Electric Bicycle with APP Control, 27.5" Commuter Electric Bike (Green) | $999.99 | ON SALE NOW |
| | Eahora ACE Electric Bicycle for Adults 31MPH 1000W Peak Electric Mountain Bike 48V 16A 60Mile 500W BAFANG Mid Drive Motor 27.5" DH Lockable Fork Ebike Shimano 9-Speed Full Air Suspension Color Display | $2,399.99 | ON SALE NOW |
| | Schwinn Volare 1400 Drop Style Hybrid Sports Road Bike, Men and Women, 14-Speed, 700c Wheels, 21-Inch Aluminum Frame, Alloy Linear Pull Brakes, Red | $362.74 | ON SALE NOW |
| | Schwinn Phocus 1600 Drop Bar Adult Road Bike, Mens and Womens, 16-Speed Drivetrain, 53cm/Large Aluminum Step-Over Frame, Carbon Fiber Fork, 700c Wheels, Black | $749.99 | ON SALE NOW |
Great North Woods NH Biking
Berlin, Colebrook, Errol, Dixville, Lancaster, Pittsburg
White Mountain NH Biking
North Conway, Lincoln, Woodstock, Littleton, Franconia, Gorham, Jackson, Sugar Hill, Whitefield, Waterville Valley
Lakes Region NH Biking
Laconia, Rochester, Plymouth, Ossipee, Meredith, Ashland, Wolfeboro, Bristol, Winnipesaukee
Dartmouth Lake Sunapee NH Biking
Lebanon, Hanover, Claremont, Newport, Tilton, Lyme, Plainfield, Newport
Monadnock NH Biking
Keene, Peterborough, Fitzwilliam, Westmoreland, Chesterfield
Merrimack Valley NH Biking
Manchester, Concord, Nashua, Salem, Derry, New London, Merrimack, Loudon
Seacoast NH Biking
Portsmouth, Dover, Durham, Hampton, Exeter, Rye, Hampton Beach
NH Lodging Guide | Weddings
Products | NH Town Guides
New England Living Magazine
Free World Mall

Country Weddings | New England Recipes
NH Inns | Boston Red Sox Gifts | Travel Destinations