NH Drift Fishing
Drift Boat Trout Fishing in the Androscoggin and Connecticut River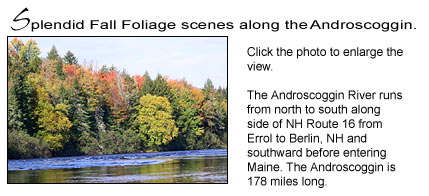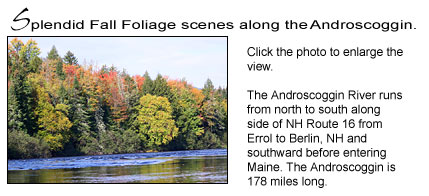 Looking for an exciting north country fishing experience? Consider Drift Fishing with an experience NH Guide. New Hampshire offers some exceptional fishing opportunities. NH rivers like the Androscoggin River in the Berlin – Errol region harbor trout, salmon and other fish species. The Fly Fishing and Drift Fishing action can be sensational.  Ask us about NH Fishing or share comments. To feature your guide service, contact us.
New Hampshire Drift Fishing & Guides

Have your tried the latest method of fishing? Drift Fishing is catching on here in the northeast. New Hampshire's Androscoggin River and Connecticut River both now feature Drift Fishing Boat Launch areas and several local NH Guides are offering Drift Fishing Adventures.
What is Drift Fishing?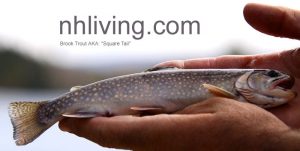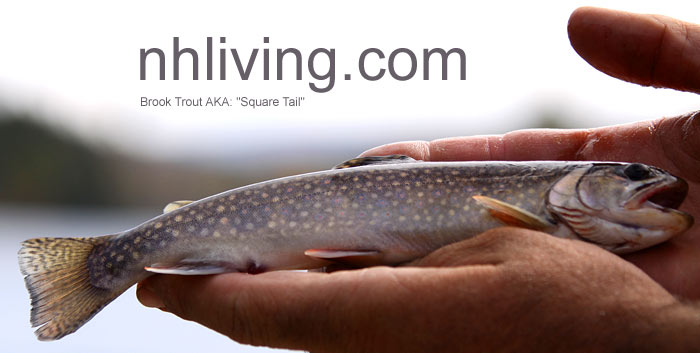 Drift fishing is exactly what the name implies. Fishing (with a fly rod, live bait or spin rod and reel) from a Drift Boat. Drift Boats are fast becoming popular – because they offer an excellent way to get out to where the fish are. Any fly fisherman who has ever slipped on rock will agree – Drift Boat Fishing is easier, safer and more productive.
Drift fishing involves dropping your Drift boat in the river and drifting downstream powered only by a set of oars. This is quiet and clean. Completely Green. No polluting motor – in fact, no motor of any kind.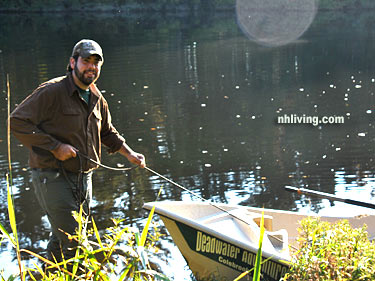 The Drift Boat we fished on was made by a company called Clacka-Craft. The Drift Boat manufacturers slogan is "Fear No Rock". The boat is rugged – more than an inch thick of solid fiberglass. That fact made me feel a bit easier as we hit the rapids.
The boat can float in just a few inches of water and maneuvers quite well. It has a mid-boat, bottom-mounted anchor that can be dropped to help hold you in place on the river as you fish the pools and rapids.
Rainbow Trout – Brook Trout and Landlocked Salmon
Browns, rainbows, brookies (also called square tails), and landlocked salmon are the primary fish of prey. The Connecticut River and Androscoggin are known to harbor these species and more. On our Androscoggin drift boat fishing trip we caught native and stocked Rainbow trout, brook trout, a sucker, a dice. The majority of the fish caught were Rainbow trout. The fast-flowing water is clean and well-oxygenated and the trout can be seen chasing your fly or lure.
Drift Fishing Vacations
Planning a Drift Fishing Vacation is easy. The tours begin in northern New Hampshire and take place in either the Connecticut or Androscoggin River. Decide which river to fish after talking with your Fishing Guide.
NH Guide Services | Fishing Tips | Spring Fishing | Lake Trout | Salmon Fishing
inns | hotels | resorts | rentals | attractions | dining | real estate
Great North Woods NH Fishing
Berlin, Colebrook, Errol, Dixville, Lancaster, Pittsburg
White Mountain NH Fishing
North Conway, Lincoln, Woodstock, Littleton, Franconia, Gorham, Jackson, Sugar Hill, Whitefield, Waterville Valley
Lakes Region NH Fishing
Laconia, Rochester, Plymouth, Ossipee, Meredith, Ashland, Wolfeboro, Bristol, Winnipesaukee
Dartmouth Lake Sunapee NH Fishing
Lebanon, Hanover, Claremont, Newport, Tilton, Lyme, Plainfield, Newport
Monadnock NH Fishing
Keene, Peterborough, Fitzwilliam, Westmoreland, Chesterfield
Merrimack Valley NH Fishing
Manchester, Concord, Nashua, Salem, Derry, New London, Merrimack, Loudon
Seacoast NH Fishing
Portsmouth, Dover, Durham, Hampton, Exeter, Rye, Hampton Beach
NH Fishing License Info | Spring Fishing | Drift Fishing
Fishing For Lake Trout & Salmon
NH Lodging Guide | Weddings
Products | NH Town Guides
Free World Mall

Country Weddings | New England Recipes
NH Inns | Boston Red Sox Gifts | Travel Destinations