Fields of Lupine
Annual White Mountain NH Pre-Summer Festival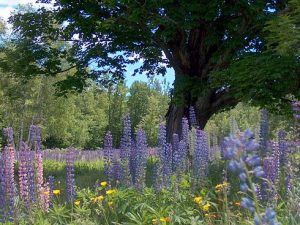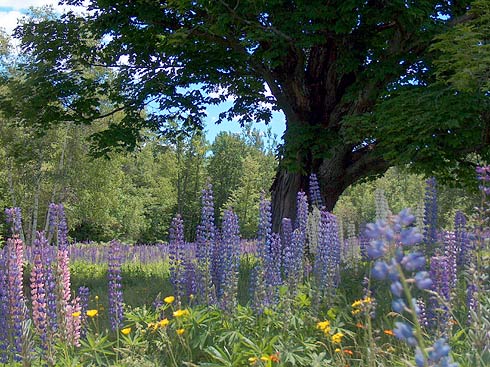 This annual festival celebrates the arrival of spring and the flowering Lupines that display bright purple flowers that are grown wild in this region of northern New England. The Fields of Lupine Festival happens every June and features a range of events and activities. Some favorite lupine festival activities include; visiting local inns, photography, scenic drives and sampling local restaurants. Ask us about the White Mountain Lupine Festival or share reviews. To feature your NH Inn or Restaurant, contact us.
NH White Mountain Lupine Festival
Visit the Flume Gorge in Franconia Notch State Park and enjoy a free movie about Franconia Notch. If you are looking for lodging visit Franconia Notch Vacations and ask about their Lupine Festival Specials.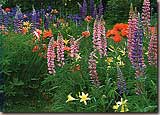 The NH White Mountain region offers an abundance of things to do. Live entertainment, lodging and dining. A visit to  the Indian Head Resort – established in 1913 – to take a free trip for two up Observation Tower provides a nice view.
Loon Reservation Service can help with your vacation rental needs and you'll find some outstanding inns, hotels, resorts and campgrounds in the area.
The Rock's Estate in Bethlehem is a must see when visiting White Mountains. The Rock is open year round and is a great place for a picnic lunch. There are hiking trails and a nice view of Mt. Washington from the top of the hill.
No visit to the Lupine Festival is complete without a drive up Sugar Hill. This historic NH town is home of the Sugar Hill Historical Museum, Sunset Hill House, Sugarhill Sampler, Harmon's Cheese Shop and the sensational Sugar Hill Inn. See wild lupines and walk the Lupine and Perennial Flower fields located near the top of Sugar Hill on Rt. 117. Don't leave the White Mountains without stopping in downtown Bethlehem. The town center (on Route 302) is the highest in elevation of New Hampshire towns and includes the recently restored, art deco styled Colonial Theatre, Eco-friendly retailer Interiors Green, WREN – a Local Works Marketplace & Gallery and a lively Farmers Market which is held Saturday 10am – 2pm. The local coffee shop called Maia Papaya has wonderful coffee and teas and the quiche of day will bring a smile to your face.
inns | hotels | resorts | rentals | attractions | dining | real estate


Sugar Hill Inn, 116 Scenic Route 117, Sugar Hill Road, Sugar Hill, NH 03586 | 603-823-5621
Nestled into the hillside on 16 acres of woodlands, rolling lawns and well-tended gardens, you will find the beauty and tranquility of New Hampshire's White Mountains. The Sugar Hill Inn is a perfect place to relax, rejuvenate and re-discover lifes simple pleasures. A place where romance is virtually guaranteed. 5- star dining.
Visit Sugar Hill Inn - Sugar Hill, NH
---


Woodstock Inn Station & Brewery, Rt. 3, No. Main, No. Woodstock, NH 03262 | 603-745-3951
Located in the quaint village of North Woodstock, the Inn's gracious and relaxed setting centers around 40 uniquely styled and cozy rooms and suites, located across 6 buildings on the property. All of our lodging options offer the comforts of home, including cable, free Wi-Fi access, air-conditioning and more. Many offer Whirlpool tubs and gas fireplaces. Includes free use of off-property indoor pool and health club. Voted a White Mountains favorite by NH Magazine, Hidden Gem award and "Worth a Journey" says Phantom Gourmet. Our famous country breakfast is included with your stay.
Visit Woodstock Inn Station & Brewery - No. Woodstock, NH
---


Wildcat Inn & Tavern, Rte 16A, Jackson Village NH 03846 | 603-383-4245
Through the Jackson covered bridge is a place that just might be perfect... a place where candle light dances and the love and laughter of a hundred years of happy travelers is as rich as the wide pine floors. We invite you to take a step back in time. Come prepared to laugh, love, and smile so hard you might just cry. After all, as brilliant stars twinkle in the clear night sky... you just might find that the Wildcat is almost perfect. Lunch, Dinner, Entertainment in the Tavern.
Visit Wildcat Inn & Tavern - Jackson Village, NH
---


Polly's Pancake Parlor, 672 Route 17, Sugar Hill, NH 03585 | 603-823-5575
Polly's Pancake Parlor has been serving yummy home cooked meals for over 75 years. Enjoy a stack of Oatmeal Buttermilk, Buckwheat or Whole Wheat pancakes. Sit back and savor a waffle of your choice smothered in real New Hampshire maple syrup or come for lunch and have a slice of quiche made with local Harman's cheese. Shop for gifts, pancake mixes and NH Maple Syrup. Reservations taken on weekends.
Visit Polly's Pancake Parlor - Sugar Hill
---


Franconia Inn, 1300 Easton Rd., Franconia, NH 03580 | 603-823-5542
"In the Land of Big Mountains and Small Villages." Nestled in the heart of the beautiful White Mountains of New Hampshire, The Franconia Inn is a full service country inn, where casual elegance and exquisite cuisine are just waiting to welcome you. Please visit our website for more information.
Visit Franconia Inn - Franconia, NH
---


rek'•lis brewing company, 2085 Main Street, Bethlehem, NH 03574 | 603-991-2357
Tiny brewery, big beers! Enjoy Craft IPA's, Great Food, Entertainment, Special Events. Check the website for specials. Thursday night Trivia. The never ending quest to quench the 'thirst', whether it's on a bike, skis, or in a glass. This it where the passion comes from, it's what rek'•lis is, this is us, and now it's you... .
Visit rek'•lis brewing company - Bethlehem, NH
---


Owl's Nest Resort, 40 Clubhouse Lane, Thornton, NH 03285 | 603-726-3076
5-star hotel experiences, spectacular (Nicklaus Designed) golf in the White Mountains & phenomenal dining with panoramic views. Visit us soon! And an unforgettable wedding setting where memories are made. .
Visit Owl's Nest Resort - Thornton, NH
---


Celli's Pizzeria, 100 Route 302, Twin Mountain, NH 03595 | 603-846-5510
Hot Pizza, Artisan Sandwiches, Panini's, Fresh Salads. Welcome to Celli's Pizzeria! We offer a large selection of deli subs & sandwiches. Fresh breads baked on location, homemade dough hand tossed pizza. Gelato , ice cream, cheese cakes, tiramissu, cannolli, daily specials, great soups, and salads.
Visit Celli's Pizzeria - Twin Mountain, NH
---


Inn at Ellis River House B&B Inn, 17 Harriman Road, Jackson, NH 03846 | 603-383-9339
Enchanting Country Inn offering "Romance & Rejuvenation" on the river in the heart of the White Mountains. 20 rooms and cottage are beautifully appointed with period and modern amenities. Many have Jacuzzis for two and/or balconies, most have fireplaces. Gourmet country breakfast and afternoon refreshments included. Enjoy the cozy game room/pub, hot tub, sauna, and outdoor heated pool. Relax, re-discover lifes simple pleasures, hike, fish, golf nearby, cross country or downhill ski, outlet shop and more. Let the Inn at Ellis River rejuvenate your spirits!
Visit Inn at Ellis River - Jackson. NH
---


Sugar Hill Inn, 116 Scenic Route 117, Sugar Hill Road, Sugar Hill, NH 03586 | 603-823-5621
Nestled into the hillside on 16 acres of woodlands, rolling lawns and well-tended gardens, you will find the beauty and tranquility of New Hampshire's White Mountains. The Sugar Hill Inn is a perfect place to relax, rejuvenate and re-discover lifes simple pleasures. A place where romance is virtually guaranteed. 5- star dining.
Visit Sugar Hill Inn - Sugar Hill, NH
---


Franconia Inn, 1300 Easton Rd., Franconia, NH 03580 | 603-823-5542
"In the Land of Big Mountains and Small Villages." Nestled in the heart of the beautiful White Mountains of New Hampshire, The Franconia Inn is a full service country inn, where casual elegance and exquisite cuisine are just waiting to welcome you. Please visit our website for more information.
Visit Franconia Inn - Franconia, NH
---


Woodstock Inn Station & Brewery, Rt. 3, No. Main, No. Woodstock, NH 03262 | 603-745-3951
Located in the quaint village of North Woodstock, the Inn's gracious and relaxed setting centers around 40 uniquely styled and cozy rooms and suites, located across 6 buildings on the property. All of our lodging options offer the comforts of home, including cable, free Wi-Fi access, air-conditioning and more. Many offer Whirlpool tubs and gas fireplaces. Includes free use of off-property indoor pool and health club. Voted a White Mountains favorite by NH Magazine, Hidden Gem award and "Worth a Journey" says Phantom Gourmet. Our famous country breakfast is included with your stay.
Visit Woodstock Inn Station & Brewery - No. Woodstock, NH
---


Wildcat Inn & Tavern, Rte 16A, Jackson Village NH 03846 | 603-383-4245
Through the Jackson covered bridge is a place that just might be perfect... a place where candle light dances and the love and laughter of a hundred years of happy travelers is as rich as the wide pine floors. We invite you to take a step back in time. Come prepared to laugh, love, and smile so hard you might just cry. After all, as brilliant stars twinkle in the clear night sky... you just might find that the Wildcat is almost perfect. Lunch, Dinner, Entertainment in the Tavern.
Visit Wildcat Inn & Tavern - Jackson Village, NH
---


Franconia Inn, 1300 Easton Rd., Franconia, NH 03580 | 603-823-5542
"In the Land of Big Mountains and Small Villages." Nestled in the heart of the beautiful White Mountains of New Hampshire, The Franconia Inn is a full service country inn, where casual elegance and exquisite cuisine are just waiting to welcome you. Please visit our website for more information.
Visit Franconia Inn - Franconia, NH
---


Four Seasons Motor Inn, Route 3, Twin Mountain, NH 03595 | 800-228-5708
New Hampshire White Mountains - we offer spotless, comfortable, relaxing non smoking rooms. We have a generous play area for kids, picnic area, AM coffee, Game Room, 5 golf courses and ski areas, and attractions surround us! Great views! You will be back! Visit our web site for information.
Visit Four Season Motor Inn Website
---


Best Western White Mountain Resort, 87 Wallace Hill Road, Franconia, NH 03580 | 603-823-7422
A distinct New Hampshire hotel where great accommodations and low discounted hotel rates are always found! Unique and charming, this White Mtn lodging facility is guest friendly, clean, comfortable and affordable. For Leisure, Holiday, Vacation, Business, Conference, or for Tour Bus operators this Franconia - Littleton New Hampshire hotel is the place for you and your family to stay for your White Mountain vacation.
Visit Best Western White Mountain Resort - Franconia, NH
---


Cabot Inn & Suites, 200 Main Street, Lancaster, NH 03584 | 603-788-3346
A four-season family resort located in the heart of the White Mountains, over-looking the Presidential Range. 60+ acres, breathtaking views of the mountains. Bretton Woods, Cannon, Wildcat, Attitash, Loon, Black Mountain, Cranmore ski areas nearby. Family restaurant and lounge. Indoor heated pool, game room, outdoor playground, video game hook-ups. Santa's Village, Six Gun City, Story Land, Whale's Tale Water park a short drive away.
Visit Cabot Inn & Suites Website
---


Eastern Inn & Suites, Rt 16, 2955 White Mountain Hwy, North Conway NH 03860 | 800-628-3750 or 603-356-5447
Located close to North Conway Village and all valley attractions, and resorts. Offering a variety of rooms and suites. Free Wi-Fi, Indoor Pool/Hot Tub, Game Rooms, and Free Cont. Breakfast. Special Storyland packages available. On site hiking and mountain biking trails. Affordable, Clean, Comfortable.
Visit Eastern Inn & Suites- North Conway, NH
---


Swiss Chalet Village Inn, 457 Intervale Resort Loop, Intervale, NH 03845 | 800-831-2727
The Swiss Chalet Village Inn offers comfortable lodging at an affordable price. Choose from a wide variety of rooms to meet your needs. Wheather you are here for a family outing, wedding, business or pleasure, you will find clean, comfortable White Mountain lodging. Pet Friendly Rooms available. Please inquire.
Visit Swiss Chalet Village Inn - Intervale, NH
---
NH Lodging Guide | Weddings
Products | NH Town Guides
New England Living
Free World Mall

Country Weddings | New England Recipes
NH Inns | Boston Red Sox Gifts | Travel Destinations