The Flume Gorge NH
Franconia Notch State Park NH

Visit the Flume in Franconia Notch State Park is located in the White Mountain National Forest in New Hampshire.  The Flume Gorge is a popular natural attraction. The Flume was formed by the glaciers thousands of years ago. Walkway lead you through the narrow chasm.  Bring your camera and use caution. Ask us about Flume Gorge Franconia Notch Vacations or share comments. To feature your business, contact us.
Flume Gorge Franconia Notch NH


Best Western White Mountain Resort, 87 Wallace Hill Road, Franconia, NH 03580 | 603-823-7422
A distinct New Hampshire hotel where great accommodations and low discounted hotel rates are always found! Unique and charming, this White Mtn lodging facility is guest friendly, clean, comfortable and affordable. For Leisure, Holiday, Vacation, Business, Conference, or for Tour Bus operators this Franconia - Littleton New Hampshire hotel is the place for you and your family to stay for your White Mountain vacation.
Visit Best Western White Mountain Resort - Franconia, NH
---


Polly's Pancke Parlor, 672 Route 17, Sugar Hill, NH 03585 | 603-823-5575
Polly's Pancake Parlor has been serving yummy home cooked meals for over 75 years. Enjoy a stack of Oatmeal Buttermilk, Buckwheat or Whole Wheat pancakes. Sit back and savor a waffle of your choice smothered in real New Hampshire maple syrup or come for lunch and have a slice of quiche made with local Harman's cheese. Shop for gifts, pancake mixes and NH Maple Syrup. Reservations taken on weekends.
Visit Polly's Pancake Parlor Website
---


Franconia Inn, 1300 Easton Rd., Franconia, NH 03580 | 603-823-5542
"In the Land of Big Mountains and Small Villages." Nestled in the heart of the beautiful White Mountains of New Hampshire, The Franconia Inn is a full service country inn, where casual elegance and exquisite cuisine are just waiting to welcome you. Please visit our website for more information.
Visit Franconia Inn - Franconia, NH
---


Badger, Peabody & Smith Realty | 1-603-823-6700
New Hampshire, Western Maine & Eastern Vermont Real Estate Services. With eight conveniently located offices, we offer full-service real estate services to the Great North Woods, Mt. Washington Valley, White Mountains, Central, Lakes Region, and the Upper Valley. In addition, we specialize in the Northeast Kingdom of Vermont and Western Maine. We also have a team dedicated to commercial real estate. If you are looking for commercial lease space in Plymouth, a development opportunity in Littleton, a hospitality property for sale in North Conway, or a business opportunity in Berlin, we can assist. Visit our website to view listings.
Badger Peabody Smith Realty
---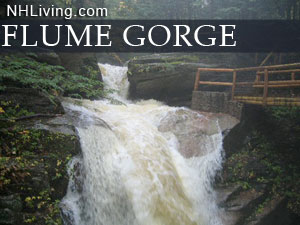 A flume is a deep and narrow chute that is used to divert water such as streams, transport logs down steep mountains, or at one time power mills. When this occurs naturally it is often referred to as a gorge. Instead of the deep chasm being formed with wooden planks they are formed with rock walls. This particular Flume is naturally occurring but was used as a log transport and power resource. It is called The Flume because those that found it was used to seeing the artificial flumes and thus referred to this natural wonder by the name they were familiar with.
The Flume has a boardwalk path from which visitors can view the gorge. In this area are also some gorgeous waterfalls, vistas, and even a covered bridge. Please be aware that the boardwalk is taken down for the winter and put back up each spring. This is because the walls can be up to two feet thick and when the spring thaw comes anything in its path is washed away.
Some attractions in Franconia Notch State Park include:
>
Some other attractions in Franconia Notch State Park are The Old Man Historic Site and Museum, The New England Ski Museum, Boise Rock, Profile Lake, Echo Lake Beach and Cannon RV Park, and Lafayette Place Campground.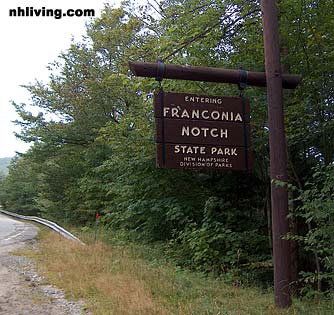 Franconia Notch State Park
Franconia/Lincoln, NH
603-745-8391
For camp reservations call: 603-745-3628 (Jan.-Oct.)
inns | hotels | resorts | rentals | attractions | dining | real estate
Camera Sale
Canon Cameras
Nikon Cameras
Photographers Accessories
NH Lodging Guide | Weddings
Products | NH Town Guides
New England Living
Free World Mall

Country Weddings | New England Recipes
NH Inns | Boston Red Sox Gifts | Travel Destinations