Gauchos Churrascaria – NH Dining Review
Dining Out at a Brazilian Steakhouse in Manchester, NH
New Hampshire Restaurant and Dining Reviews from NHLiving.com feature easy to read, easy to use NH dining reviews. We travel all over New Hampshire to find the best dining values in the state and bring fresh restaurant reviews to your desktop every month. We appreciate it when you mention "…I found you online in NHLiving.com", when you visit one of the many New Hampshire restaurants we've reviewed and recommended. Share your NH restaurant comments and photos with us on Facebook. To feature your favorite business in NHLiving.com – New Hampshire's Internet Magazine, please contact us.
NH Dining at Gauchos Churrascaria
A visit to Manchester's own Brazilian steakhouse. Come hungry!
For a friend's birthday, I was invited to eat "meat on swords" in Manchester, New Hampshire. I have to admit, I was skeptical. But Gauchos Churrascaria turned out to be one of the most memorable and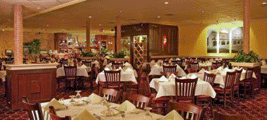 impressive dining experiences I have ever had. Gauchos is about as different from your typical chain steakhouse as you can get and still be eating meat. In addition to amazing food, Gauchos offers an upscale atmosphere, Brazilian music, and a spirit of adventure that most other restaurants cannot match. After sitting down, I was surprised to learn that there were no menus. Looking around, I saw servers continuously weaving among the tables, inviting diners to try various kinds of mouthwatering meat on large rotisserie skewers (the "swords" I had heard about). This is how meals at Gauchos are served. Two of my friends had been to the restaurant before, and they explained the system to the rest of us.
At our table, each person had a round card that resembled a thin coaster. One side was green, the other was red. I was told to keep the red side showing while we were enjoying the salad bar. And it was an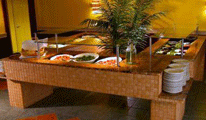 excellent salad bar. It featured an assortment of prepared salads, including a mozzarella and tomato salad and a tropical salad, as well as many tasty options for creating our own salads. I would be remiss if I did not mention the wonderful Brazilian cheese bread at the salad bar. It's a good thing I was reminded not to fill up on salads, because the little rolls were so delicious I could have eaten a dozen of them.
When we had finished our salads, everyone flipped their cards over so the green side was showing. And then the feast began. The servers got the signal and began to stop at our table, offering us a seemingly endless array of meats. Gauchos offers no fewer than 12 dishes: filet wrapped in bacon, turkey wrapped in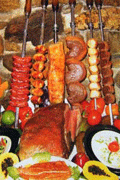 bacon, prime rib, flank steak, short ribs, sirloin, lamb, chicken, sausage, pork loin, pork ribs, and chicken hearts. When we saw something we wanted to try, the server loosened a tender bit of meat on the end of the skewer, and we pulled off our piece with metal tongs. All this activity might have seemed a bit chaotic if our waiter had not done such a wonderful job. He stayed on top of our drinks orders, and he brought us more sides when we asked for them. The sides were served family-style, and they were delicious. We could not get enough of the fried plantains, yucca, and baby yellow potatoes.
The price for this banquet was $22.95 per person (excluding drinks, desserts, and gratuity), which is reasonable considering the amount of food involved. (This restaurant is not recommended for vegetarians, as they would be eating only the sides and salads.) It is a good idea to accept the salmon when it is offered, since it is considered part of the first course and may not appear later in the evening. However, after the main course gets underway, feel free to refuse a particular item if your plate is full — you will get several opportunities to try everything. As our plates and bellies began to fill up, we realized it would be impossible to accept everything that was offered. Finally, when we couldn't eat any more, we flipped our cards back to red and sighed, utterly satisfied with our "meat on swords" experience. I could not have eaten another bite.
~ Jenn for nhliving.com
A Gauchos glossary:
Gauchos: the term for cowboys used in Argentina, Uruguay and southern Brazil.
Churrasco (shoo-rhas'co): the gauchos' style of cooking. They had no way to store raw meat, so they cooked large amounts of meat slowly over a wood fire.
Caipirinha (ky-pee-reen-ya): A Brazilian drink made with chunks of fresh limes, cachaça (a liquor made from sugar cane), ice, and sugar.
Photos courtesy of Gauchos Churrascaria

Gauchos Churrascaria
62 Lowell St.
Manchester, NH 03101
Ph: 603-669-9460
inns | hotels | resorts | rentals | attractions | dining | real estate
Great North Woods NH Restaurants
Berlin, Colebrook, Errol, Dixville, Lancaster, Pittsburg
White Mountains NH Restaurants
North Conway, Lincoln, Woodstock, Littleton, Franconia, Gorham, Jackson, Sugar Hill, Whitefield, Waterville Valley,
Lakes Region NH Restaurants
Laconia, Rochester, Plymouth, Ossipee, Meredith, Ashland, Wolfeboro, Bristol, Winnipesaukee
Dartmouth Lake Sunapee NH Restaurants
Lebanon, Hanover, Claremont, Newport, Tilton, Lyme, Plainfield, Newport
Monadnock NH Restaurants
Keene, Peterborough, Fitzwilliam, Westmoreland, Chesterfield
Merrimack Valley NH Restaurants
Manchester, Concord, Nashua, Salem, Derry, New London, Merrimack, Loudon
Seacoast NH Restaurants
Portsmouth, Dover, Durham, Hampton, Exeter, Rye, Hampton Beach
NH Lodging Guide | Weddings
Products | NH Town Guides
New England Living | New England Restaurant Dining
Free World Mall

Country Weddings | New England Recipes
NH Inns | Boston Red Sox Gifts | Travel Destinations