New Hampshire Motor Speedway
NH Motorsports NASCAR Auto Racing Loudon NH

Experience Auto Racing at the New Hampshire International Speedway. Buy NH Motorspeedway Tickets and plan your NH visit to the Magic Mile.
The Magic Mile is the one at New Hampshire Motor Speedway. NH Motor Week happens every July and the smell of rubber is in the air. Join the excitement of NASCAR Auto Racing in NH at NH Motor Speedway in Loudon.  Share your business information, contact us.
New Hampshire International Speedway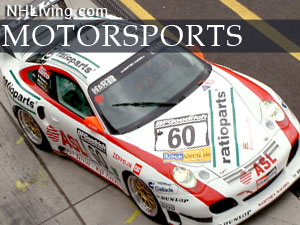 New Hampshire Motor Speedway
"The Magic Mile"
Loudon, NH 03307
Check current NH Motor Speedway events and tickets below.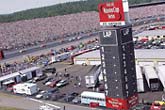 Directions:
Located on Route 106, 10 miles north of Concord, NH.
Northbound: I-93 to Exit 15E (I-393). Then take Exit 3, and turn left onto Route 106. Follow the signs.
Southbound: I-93 to Tilton Exit 20 to Route 140 through Belmont to Route 106. Travel south 8 miles.
Race Day, Start Time:
NHIS is open from April through October.
Please check the event schedule for race dates and times.
Events:
AMA®, NASCAR®, and SCCA®.
1.058 Mile Oval Spuerspeedway features stock car, modified, and truck racing.
1.6 Mile Road Course features motorcycles, sports cars, and karts.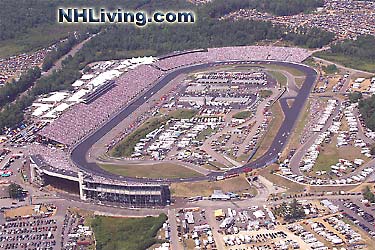 NHIS Track Facts:
NHIS is the first Superspeedway to be constructed in the USA since 1969.
NHIS is the largest sports facility in New England in terms of seating capacity.
NHIS hosts the two largest sporting events in New England;
the NASCAR Winston Cup Series New England 300 in July
and the Sylvania 300 in September.
More than 500,00 guests visit NHIS each year.
NHIS provides part-time employment to more than 1,500 people annually.
Sanctioning Bodies:
NASCAR®, Formula USA®, SCCA®, and WKA®
Aerial view of New Hampshire Motor Speedway (NHMS) in Loudon, NH
inns | hotels | resorts | rentals | attractions | dining | real estate
SHOP NASCAR GIFTS

| Photo | Title | Price | Buy |
| --- | --- | --- | --- |
| | Stock Car Race Track Poster intended for NASCAR Racing Fans for 2023 Cup Series Circuits Gift Print Wall Art - Portrait Black, 8x10" Satin Print (Unframed) - Perfect Gift for Car Enthusiast | $30.99 | ON SALE NOW |
| | NASCAR Vintage Daytona 500 Shirt Racing Mens Graphic T-Shirt (White Daytona, X-Large) | $29.99 | ON SALE NOW |
| | NASCAR Indianapolis Motor Speedway Stadium Stadium | $39.95 | ON SALE NOW |
| | Charlotte Motor Speedway - ROVAL - Unframed NASCAR Poster by Blakeway Panoramas | $34.95 | ON SALE NOW |
| | NASCAR Kyle Busch Uniform Costume - S | | ON SALE NOW |
| | FOCO NASCAR Chase Elliott Unisex Flannel Long Sleeve Button Up Shirt, Team Color, XL | $64.77 | ON SALE NOW |
| | JH DESIGN GROUP Men's Chevy Corvette C7 Collage Black Zip Up Hoodie Sweatshirt (Large, CLG2-black) | $64.98 | ON SALE NOW |
| | NASCAR Vintage Daytona 500 Shirt Racing Mens Graphic T-Shirt (Black Daytona, Small) | $23.13 | ON SALE NOW |
| | NASCAR Vintage Daytona 500 Shirt Racing Mens Graphic Long Sleeve T-Shirt (White, Small) | $24.99 | ON SALE NOW |
| | NASCAR Vintage Daytona 500 Shirt Racing Mens Graphic T-Shirt (Checkered White, X-Large) | $29.81 | ON SALE NOW |
| | NASCAR Dale Earnhardt Sr The Intimidator Mens Adult T-Shirt (Large) Black | $31.95 | ON SALE NOW |
| | FOCO NASCAR Kyle Busch Men's Floral Button Up Short Sleeve Shirt, Team Color, S | $32.70 | ON SALE NOW |
| | Grunt Style Vintage American Hoodie (Military Green, Small) | | ON SALE NOW |
| | NASCAR - Chase Elliott - Signature T-Shirt | $19.99 | ON SALE NOW |
| | Athlon Optics 10x42 Cronus G2 UHD Black Binoculars with Eye Relief for Adults and Kids, High-Powered Binoculars for Hunting, Birdwatching, and More | $419.99 | ON SALE NOW |
| | 10X50 Binoculars for Adults with Phone Adapter, Virtual High Powered Binoculars for Hunting, BAK4 Prisms FMC Lens Waterproof Binoculars for Bird Watching Sport Hiking Travel Outdoor Activities | $54.99 | ON SALE NOW |
| | 20x50 Waterproof HD Birding Powerful Binoculars for Adults - Image Stabilization Large View Telescope Binoculars with Clear Low Light Vision for Hunting, Bird Watching, Travel, Hiking, Sports Watching | $49.99 | ON SALE NOW |
| | Nikon Trailblazer 8x25 ATB Waterproof Black Binoculars | $83.78 | ON SALE NOW |
| | FULLJA 20x50 High Power Hunting Binoculars for Adults - Stargazing Binoculars with Clear Low Light Vision, Waterproof Binoculars for Bird Watching, Travel, Outdoor Sports, Best Gifts for Men | $46.15 | ON SALE NOW |
| | Nikon PROSTAFF 3S 8x42 | $140.49 | ON SALE NOW |
| | Nikon PROSTAFF P3 8x42 Binocular | Waterproof, fogproof, rubber-armored Full-Size Binocular, wide field of view & long eye relief, Limited Lifetime Warranty | Official Nikon USA Model | $96.95 | ON SALE NOW |
| | Nikon Aculon A211 10x42 Binoculars Black, full-size | $96.95 | ON SALE NOW |
| | Nikon ACULON A30 10x25 Black Binocular | Dual hinge design, Fully multi-coated lightweight Binocular, Smooth Central Focus Knob, Limited Lifetime Warranty | Official Nikon USA Model | $69.00 | ON SALE NOW |
| | Nikon 7X50 CF WP Global Compass | $299.00 | ON SALE NOW |
| | Bushnell H2O 10x42mm Binoculars, Waterproof/Fogproof Roof Prism Binoculars for Boating amd Travel | $149.99 | ON SALE NOW |
| | PROSTAFF P3 10x42 Binoculars Black with Lens Pen and Cleaning Cloth | $96.95 | ON SALE NOW |
| | Nikon 7238 Action Ex Extreme 8 X 40 mm All Terrain Binoculars | $139.00 | ON SALE NOW |
NH Lodging Guide | Weddings
Products | NH Town Guides
New England Living Magazine
Free World Mall

Country Weddings | New England Recipes
NH Inns | Boston Red Sox Gifts | Travel Destinations