Merrimack Valley NH Museums

Visit Frank Lloyd Wright's Zimmerman House in Manchester – just one of the gems available for viewing at Manchester's Currier Museum of Art. Please share your NH museum comments. To feature your local business, contact us.
Merrimack Valley New Hampshire Museums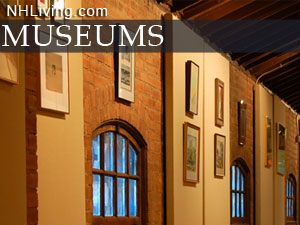 Christa McAuliffe Planetarium
The Christa McAuliffe Planetarium
Concord, NH.
Ph: 603-271-7831
Admission is charged.
Currier Museum of Art
201 Myrtle Way
Manchester, NH 03101
Ph: 603- 669-6144
The Currier Museum of Art is an internationally renowned art museum located in Manchester, NH. The Currier features European and American paintings, decorative arts, photographs and sculpture, including works by Picasso, Monet, O'Keeffe, and Wyeth, with exhibitions, tours, and performances year-round. The museum also owns Frank Lloyd Wright's Zimmerman House.
Lawrence E. Lee Scouting Museum
Bodwell Rd. (exit 5 off of I-93 at Camp Carpenter)
Manchester, NH 03103
Ph: 603-669-8919
Houses memorabilia of scouting from 1900 to present. Includes uniforms, periodicals, and collectibles from international scouting. Picnic area, nature trails.
Manchester Historic Association Millyard Museum
Mill #3, Corner of Commercial and Pleasent St.
Manchester, NH 03101
Ph: 603-622-7531
This museum chronicles the history of cloth making in New Hampshire from the Native Americans who first settled to workers who made Amoskeag Manufacturing Company a name known around the world. Admission is charged.
New Hampshire Historical Society Museum
Eagle Sq.
Concord, NH 03301
Ph: 603-228-6688
This museum is open year-round. Closed on holidays. Donations accepted. Hear an Abenaki tale, view many artifacts, see a historic Concord Coach, or climb the replica fire tower for a birds-eye view of Concord.
New Hampshire Snowmobile Museum
Allenstown, NH 03275
Ph: 603-648-2304
Admission by donations. Learn the elaborate history of the snowmobile from its days as a form of "over-the-snow" transportation and the need for it in the logging industry, to its appearance as a new recreational vehicle and the role New Hampshire played in getting the snowmobile established.
Museum of Family Camping
157 Deerfield Road
Allenstown, NH 03275
Ph: 603-485-3782
This little museum in the pines of Bear Brook State Park has been featured on CBS This Morning TV Show and is the realization of Roy B. Heise (1910-1991), whose dream it was to open a museum to display camping memorabilia and treasures depicting the history of family camping.
Nashua Historical Society
5 Abbott Street
Nashua, NH 03064
Ph: 603-883-0015
The Abbott-Spalding House Museum is a Federal Revival style house that was home to a succession of prominent Nashua citizens. The Florence Hyde Speare Memorial Museum contains information regarding Nashua's origins, its evolution into a mill town, and its continued growth as a leader in manufacturing and technology.
Aviation Museum of New Hampshire
13 East Perimeter Road
Manchester, NH 03103
Ph: 603-669-4820
Learn all about New Hampshire's aviation history. Museum exhibits cover persons, places, events, and artifacts related to the aviation history of New Hampshire. The information presented about the pioneering men and women who have represented New Hampshire in the air will take you back in time and might even change the way you think about New Hampshire, especially the contributions NH made to the aviation history of America and the world.
inns | hotels | resorts | rentals | attractions | dining | real estate
Great North Woods NH Museums
Berlin, Colebrook, Errol, Dixville, Lancaster, Pittsburg
White Mountain NH Museums
North Conway, Lincoln, Woodstock, Littleton, Franconia, Gorham, Jackson, Sugar Hill, Whitefield, Waterville Valley
Lakes Region NH Museums
Laconia, Rochester, Plymouth, Ossipee, Meredith, Ashland, Wolfeboro, Bristol, Winnipesaukee
Dartmouth Lake Sunapee NH Museums
Lebanon, Hanover, Claremont, Newport, Tilton, Lyme, Plainfield, Newport
Monadnock NH Museums
Keene, Peterborough, Fitzwilliam, Westmoreland, Chesterfield
Merrimack Valley NH Museums
Manchester, Concord, Nashua, Salem, Derry, New London, Merrimack, Loudon
Seacoast NH Museums
Portsmouth, Dover, Durham, Hampton, Exeter, Rye, Hampton Beach
NH Lodging Guide | Weddings
Products | NH Town Guides
Free World Mall

Country Weddings | New England Recipes
NH Inns | Boston Red Sox Gifts | Travel Destinations