New England Disabled Sports
Bretton Woods Resort Partners With NEDS of Loon Mtn Lincoln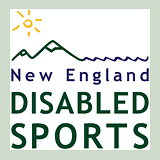 New England Disabled Sports, headquartered at Loon Mountain in Lincoln, NH, has partnered with Bretton Woods Resort. New England Disabled Sports is a nationally recognized program which provides year-round adaptive sport instruction to adults and children with physical and cognitive disabilities. The programs allow individuals with disabilities to enjoy the great outdoors, competitive sports and have fun with family and friends. The program also provides access to specialized equipment and professional instruction. Ask us about NH Sports or share your comments. To feature your business, contact us.
New Hampshire Disabled Sports
New England Disabled Sports strives for excellence and aspires to be a leader in adaptive sports. Some of the sports currently in the program include: Camping, Cycling, Fishing, Golfing, Skiing, Summer Biathlon, Surfing, Snowboarding and Waterskiing.
Bretton Woods Resort Partners with New England Disabled Sports
Bretton Woods Adaptive Sports & Recreation (BWA), located at Bretton Woods Ski Area, had announced a new partnership with New England Disabled Sports (NEDS), headquartered at Loon Mountain Resort. The new alliance with NEDS will provide for expanded programming, along with experienced and well-trained volunteers who will help people with special needs experience the outdoors.
By joining forces with NEDS, the program at BWA will gain strength in numbers, financial support and fundraising opportunities. All of this means top-level programming for the adaptive community. "Omni Mount Washington Resort is pleased to support Bretton Woods Adaptive during their transition from an 

independent non-profit organization to an affiliate of New England Disabled Sports," said Chris Ellms, Director of Ski Area Operations at Bretton Woods. "BWA has always been an important part of our ski school offerings and we feel this partnership will ensure a professional level of service for years to come." "It is a very exciting time for adaptive programming at Bretton Woods and we can't wait to get started with New England Disabled Sports," said Joe Shea, a BWA board member.
BWA has always provided top level instruction to its guests who have various disabilities. Using a variety of techniques and equipment, this dedicated group of volunteers meets the diverse needs of adaptive sports enthusiasts, as well as local New Hampshire students and newcomers to the sport of skiing. "We are excited about this partnership with Bretton Woods and the opportunity to build on the adaptive program," said Roy Whitaker, Executive Director of New England Disabled Sports. "The combined resources of these organizations will certainly help raise the bar for adaptive sports programs everywhere."
About the Omni Mount Washington Resort
The Omni Mount Washington Resort is an all-season resort destination in New Hampshire located at the base of Mount Washington and surrounded by the White Mountain National Forest. In September 2009, Omni Hotels began management of the property, which is now home to the Omni Mount Washington Hotel, site of the International Monetary Conference of 1944, and Bretton Woods, New Hampshire's largest ski area.
Recent renovations unveiled a restored 18-hole Mount Washington Golf Course, a new 25,000-square-foot Spa, 20,000-square-foot Conference Center, outdoor pool complex and renovated guestrooms, lobby and public spaces. The Bretton Woods Canopy Tour was also added to the resort's list of amenities, which includes top-rated Alpine and Nordic skiing, 27 holes of championship golf and a full slate of additional seasonal activities. A variety of lodging, dining and activities is offered year-round, along with many traditional and cultural events.
inns | hotels | resorts | rentals | attractions | dining | real estate
NH Lodging Guide | Weddings
Products | NH Town Guides
New England Living Magazine
Free World Mall

Country Weddings | New England Recipes
NH Inns | Boston Red Sox Gifts | Travel Destinations