Piccola Italia Ristorante – NH Dining Review
Piccola Italia – Manchester, New Hampshire Restaurant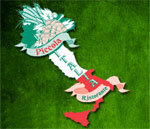 Manchester New Hampshire has several outstanding restaurants, this city has an ethnic mix consisting primarily of Greek, French, Canadian, Latin American, Irish, Jewish, and Italian nationalities. It was on Elm Street in Downtown Manchester where we found an Italian Restaurant called Piccola Italia Ristorante.
To promote your business in NHLiving.com – New Hampshire's Internet Magazine, please contact us.
Piccola Italia Ristorante
A jewel in downtown Manchester. Piccola Italia located at 827 Elm Street in Manchester NH is definitely a restaurant to seek out if you are looking for authentic Italian cuisine.
Piccola Italia is a relatively small restaurant where you should make a reservation in advance or plan on an extended wait during busy periods. The wait is made enjoyable by the martini bar that is located within this charming establishment.
You are also greeted near the front door with a large enclosed rotating display of many scrumptious-looking desserts being taunted in front of you. I chose my dessert before we were seated.
We arrived early (5:15) with no reservation. A little apprehensive because of the line, we found out that Piccola Italia is also a favorite for many to call ahead and take out. We were seated at the last available table unreserved for at least an hour. Our table for two was near the front of the room and I felt like I had landed in Italy. Murals on the walls, a trellis with grape vines above me, warmth on a chilly winter night. Extremely inviting. Our host would let out a few phrases of an Italian song. The ambiance was comfortable and welcoming with a window view of Downtown Manchester.
The menu is outstanding and four pages long. Each entry has a wine suggestion or two, to enhance that particular dish – a nice touch. The wine selections were definitely top drawer even by the glass.
Many items such as the Roasted Peppers (Roasted Red Peppers, fresh garlic and basil on oven-baked bread with melted buffalo mozzarella and the Clams alla Paesana, countneck clams sauteed with onions, fresh tomatoes, and basil in a light marinara sauce) could easily be shared. I found the servings both generous and flavorful.
We then choose one of the house specialties Shrimp Bracoiletta (jumbo shrimp with crab meat stuffing wrapped in pancetta, a spiced Italian bacon, with mushroom in a light wine sauce) and classic Veal Piccata. Outstanding. Again, I was expecting two small pieces of veal and was pleasantly surprised to find a generous and mouth-watering platter placed in front of me.
Dessert was a classic Italian cannoli. Again, perfect to share at the end of a well prepared meal.
One of the high points of the evening was the incredible service. Our primary waiter was a male of the singing variety who favored Italian songs. He had several capable assistants that made sure our meals were served as soon as they were ready, and our water glasses were promptly filled, and that we had everything we could possibly need.
Recommending Piccola Italia is easy. You can't miss at this fine restaurant. I cannot believe that anyone would be anything but pleased. I also found that you can linger or be on a schedule and they will be accommodating to you needs. Try Piccola Italia – worth a special visit to Manchester, New Hampshire. Tell them NHLiving.com sent you.
– Lynn B. for NH Living.com

Piccola Italia Ristorante
827 Elm Street
Manchester, NH 03101
603-606-5100
inns | hotels | resorts | rentals | attractions | dining | real estate
Great North Woods NH Restaurants
Berlin, Colebrook, Errol, Dixville, Lancaster, Pittsburg
White Mountains NH Restaurants
North Conway, Lincoln, Woodstock, Littleton, Franconia, Gorham, Jackson, Sugar Hill, Whitefield, Waterville Valley,
Lakes Region NH Restaurants
Laconia, Rochester, Plymouth, Ossipee, Meredith, Ashland, Wolfeboro, Bristol, Winnipesaukee
Dartmouth Lake Sunapee NH Restaurants
Lebanon, Hanover, Claremont, Newport, Tilton, Lyme, Plainfield, Newport
Monadnock NH Restaurants
Keene, Peterborough, Fitzwilliam, Westmoreland, Chesterfield
Merrimack Valley NH Restaurants
Manchester, Concord, Nashua, Salem, Derry, New London, Merrimack, Loudon
Seacoast NH Restaurants
Portsmouth, Dover, Durham, Hampton, Exeter, Rye, Hampton Beach
NH Lodging Guide | Weddings
Products | NH Town Guides
New England Living | New England Dining
Free World Mall

Country Weddings | New England Recipes
NH Inns | Boston Red Sox Gifts | Travel Destinations