Snowflake Inn
A summer visit to the Romantic Snowflake Inn in Jackson, NH
Include Me shortcode: file not found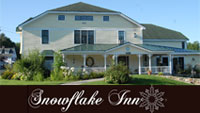 Located in the heart of Jackson in the beautiful Mount Washington Valley of New Hampshire, you will find the Snowflake Inn. The Snowflake Inn is a four-season romantic inn in a very ski and winter oriented region. With six major ski areas within a short drive of Jackson, it is a popular place in the winter. How lucky for us to have discovered the Snowflake Inn during summer. We walked the Ellis River walkway, strolled "downtown Jackson" and tossed stones in the pond adjacent to the inn and walking path. Ask us about Snowflake Inn or share your Jackson, NH visitor comments. To feature your business, contact us.
Jackson NH Vacations: Snowflake Inn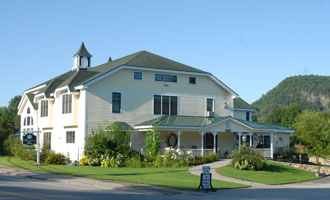 This 20-room suite inn, built in 2003, is adult-friendly with a quieter atmosphere. Each room has its own Jacuzzi tub, where romantic red towels are folded into the shape of either a heart or two kissing swans – depending on your version of tub. A single red passion rose is also placed near the tub. All rooms feature a single, comfortable, king size bed, flat screen television, and a seperate sitting area. Gas fireplaces are located in each room, providing a cozy ambience during the spring, fall and winter.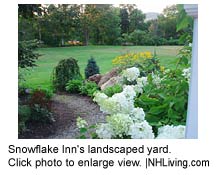 Among the things that bring the Snowflake Inn to higher standards is a wonderful 19-foot indoor pool and spa combo that is complete with 18 jets and a Badu Swim Spa. This indoor pool/spa, with the great outdoors being invited in through many open windows, was my favorite part of our visit. The temperature of the pool is kept around 90 degrees, allowing you to feel refreshed without overheating. The swim jets are fantastic. You really have to swim to keep ahead of them. You can opt for a vigorous workout if your heart desires, or just soak in the soothing bubbles and relax.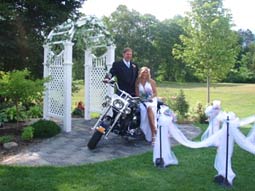 Weddings are welcomed here at the Snowflake Inn. A white arbor set into a landscaped rock garden is the perfect backdrop for your White Mountain wedding ceremony. The babbling Ellis River, with over 6 acres of beautifully manicured grounds, is the ideal location for a larger wedding. Elopements, second getaway weddings and smaller intimate weddings are also a perfect fit for this romantic New Hampshire Inn.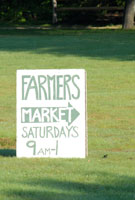 Jackson, NH is a hopping ski town during the winter months, but also has much to offer during the summer months as well. All of the local restaurants are open for business. There are great walking paths, as well as a loop around town that provides scenic exercise or a wonderful stroll. The farmers' market is held right next to the Inn on Saturdays and an unofficial swimming area is just off the main road. Other local activities include horseback riding, mountain biking, the Mt. Washington Auto Road, Zip-Line Rides, an 18-hole golf course in the middle of town (literally) and let us not forget the North Conway Outlets – just 7 miles south on Route 302. There is so much to see and do in the Jackson – North Conway area. Plan to spend several days.
The Snowflake Inn is also the perfect winter escape. With six ski areas within a short drive, you can combine your romance with downhill or cross country ski too.
Get back in touch with your romantic side with a visit to the Snowflake Inn and the town of Jackson, New Hampshire. An ideal New Hampshire vacation destination – winter, summer, spring, or fall. Tell the Snowflake Inn you found them in NHLiving.com, New Hampshire's Internet Magazine.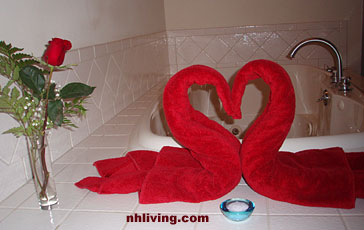 inns | hotels | resorts | rentals | attractions | dining | real estate
NH Lodging Guide | Weddings
Products | NH Town Guides
New England Living Magazine
Free World Mall

Country Weddings | New England Recipes
NH Inns | Boston Red Sox Gifts | Travel Destinations