New Hampshire Snowmobiling

Take an NH Snowmobile Vacation! New Hampshire's snowmobile trails are quite famous. With a snowmobile season that usually begins in mid-December and extends through at least February, there is plenty of time each season to explore the vast snowmobiling trail network in the state.
New Hampshire's snowmobile trail system is maintained by the NH Snowmobile Association, an organization of independently incorporated snowmobile clubs. How old do you have to be to snowmobile in New Hampshire? To snowmobile in NH any person age 12 or older must have either a valid Motor Vehicle Driver's License or have successfully completed an approved OHRV / Snowmobile Safety Education class. Also, all children under age 14 must be accompanied by a licensed adult when operating a snowmobile or OHRV on public trails. To feature your NH business, contact us.
New Hampshire Snowmobile Vacations


Partridge Cabins, 3 Partridge Road, US Route 3, Pittsburg, NH 03592 | Ph: 603-538-6380
Visit Partridge Cabins and Lodge - the four season place to be. We have 600 feet of lake frontage, and offer housekeeping cabins situated amidst the shade of sheltering spruce and fir trees. Completely winterized cabins with gas heaters, private baths, with hot and cold running water, electricity, and full kitchen facilities. All cabins are attractively furnished, and accommodate 4-8 people. Snowmobile, cross-country ski, hike, moose watch, and let's not forget fishing and hunting! Summer, fall, winter, and spring, you will find Partridge Lodge & Cabins most pleasing.
Visit Partridge Cabins - Pittsburg, NH
---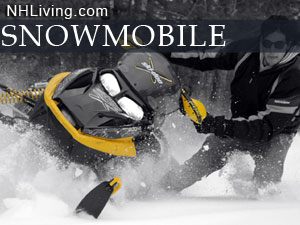 The New Hampshire Snowmobiling Season brings a unique opportunity to view some of the state's awesome beauty. The snowmobiling enthusiast will love New Hampshire, for here the snowmobiler can enjoy breathtaking vistas, clean country air, superb snowmobile trails, and some outstanding New England hospitality and lodging options.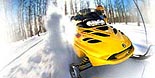 New Hampshire has more than 6,800 miles of groomed snowmobile trails, a remarkable snowmobile trail system that is one of the best in the world. The N.H. snowmobile trails are groomed by local snowmobile clubs and members of the New Hampshire Snowmobile Association (NHSA). NHSA is a non-profit association that maintains New Hampshire's trail network with many groomers working statewide.
New Hampshire is where snowmobiling got its start. 1913, a Ford dealer in New Hampshire named Virgil White invented a track and a ski unit conversion for a Ford Model T. Mr. White called the vehicle a "snowmobile". The invention was purported to simultaneously invented in Waterville, Maine – unbeknownst to either man.
NH Snowmobile Conditions
For the very latest NH snowmobile trail conditions, we advise that you contact the NH businesses listed above. Follow this link for more information about current snowmobile trail conditions and recent photos from the trails.
New Hampshire Snowmobile Clubs
The New Hampshire Snowmobile Association (NHSA) clubs are the backbone of the organization. In addition to grooming and maintaining the New Hampshire snowmobile trails system, each club holds monthly meetings, sponsors year-round outings and events, monitors legislation, holds snowmobile safety workshops, and raises money for charity.
There are over 115 snowmobile clubs in New Hampshire – they're located throughout the state. Membership fees vary from club to club. NHSA is a non-profit association that maintains New Hampshire's trail network with many groomers working statewide.

SNOWMOBILING GEAR EQUIPMENT & OUTERWEAR
NH Lodging Guide | Weddings
Products | NH Town Guides
New England Living Magazine
Free World Mall

Country Weddings | New England Recipes
NH Inns | Boston Red Sox Gifts | Travel Destinations