Bethlehem, New Hampshire 03574
Bethlehem NH Lodging, Real Estate, Travel & Visitor Information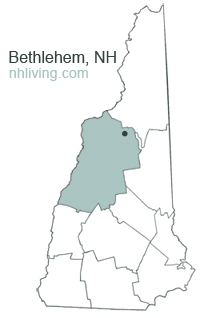 First established in 1774 as Lloyd's Hills, the town was incorporated on December 27, 1799, as Bethlehem. The name was selected on the last Christmas Day of the century. Bethlehem was the last of the provincial land grants in the state.


rek'•lis brewing company, 2085 Main Street, Bethlehem, NH 03574 | 603-991-2357
Tiny brewery, big beers! Enjoy Craft IPA's, Great Food, Entertainment, Special Events. Check the website for specials. Thursday night Trivia. The never ending quest to quench the 'thirst', whether it's on a bike, skis, or in a glass. This it where the passion comes from, it's what rek'•lis is, this is us, and now it's you... .
Visit rek'•lis brewing company - Bethlehem, NH
---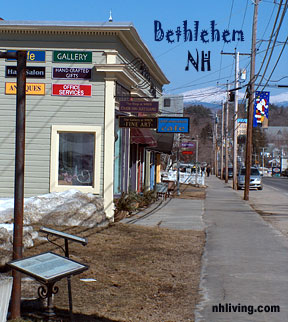 The town of Bethlehem is home to Mount Agassiz, named for Jean Louis Rudolph Agassiz, an explorer and naturalist. More than half of this town lies within the 780,00 acre White Mountain National Forest. The center of the town has the highest elevation of all towns in the state.
Bethlehem encompasses acres of real estate, it is the second-largest New Hampshire municipality in terms of land area. Today, the town is known for its special Christmas postal cancellation stamp. Hundreds of visitors travel to Bethlehem every year to mail Christmas cards and letters.
The Rocks Estate – a popular hiking and sightseeing area is located here. The White Mountain School is located on the west side of Bethlehem. Bethlehem's Main Street features several unique shops, art galleries, antique stores, rek-lis Brewery, and other restaurants. The historic downtown Colonial Theatre is the longest continually running movie theatre in the United States.
To share your Bethlehem, NH business information contact us about advertising in NHLiving.
Incorporated: 1799
County: Grafton
Bethlehem, NH Population:
2010: 2,526
GPS Coordinates:
Latitude: 44.1649
Longitude: -71.4117
Bethlehem, NH Local Information
Bethlehem Police Dispatch: 911
Exploring Bethlehem, New Hampshire: A Charming Town Rich in History and Natural Beauty
Nestled in the heart of the White Mountains, Bethlehem, New Hampshire, offers a captivating blend of history, natural wonders, and a thriving community. This idyllic town is renowned for its rich history, breathtaking hikes, vibrant arts scene, and warm hospitality.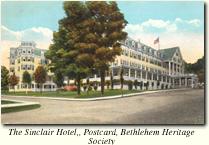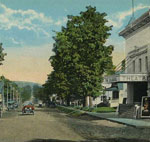 Bethlehem History:
With a history dating back to the late 18th century, Bethlehem has preserved its heritage through historic buildings and landmarks. The town's founding can be traced to the arrival of the Railroad in the 1870s, which boosted the local economy and attracted visitors from far and wide. Today, Bethlehem maintains its historic charm, evident in the classic architecture that lines the streets and the welcoming community that celebrates its past.
Bethlehem Real Estate and Home Values:
Bethlehem offers a diverse range of real estate options, from historic Victorian houses to modern mountain retreats. The town's real estate market has seen steady growth in recent years, attracting both permanent residents and vacation homeowners. The median home value in Bethlehem is around $250,000, making it an attractive destination for those seeking affordable mountain living without compromising on natural beauty and community spirit.
Hikes and Outdoor Activities:
Nature enthusiasts will find themselves spoiled for choice in Bethlehem. The town boasts an abundance of scenic hikes that cater to all skill levels. One of the most popular trails is the Bridal Veil Falls Trail, which leads to a picturesque waterfall nestled within the woods. For more challenging adventures, the Ammonoosuc Ravine Trail takes hikers to the summit of Mount Washington, offering breathtaking views of the surrounding mountains.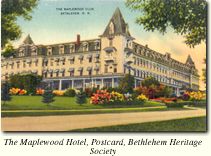 Points of Interest:
Aside from its natural wonders, Bethlehem is home to several points of interest that showcase its unique character. The Colonial Theater, built in 1915, is a local gem offering a diverse range of live performances and cinematic experiences. Art lovers will appreciate the local galleries, which showcase the work of talented regional artists. Additionally, the Bethlehem Heritage Society and Museum provides insight into the town's history and displays artifacts that tell the story of its early days.
Reklis Brewery:
No visit to Bethlehem would be complete without a stop at Reklis Brewery. Located in the heart of town, this beloved brewery offers a welcoming atmosphere and a delightful selection of craft beers. With a focus on local ingredients and unique flavors, Reklis Brewery is a favorite among locals and visitors alike. Whether you're a beer aficionado or simply looking for a friendly gathering spot, Reklis Brewery is a must-visit destination in Bethlehem.
Golf Courses:
For golf enthusiasts, Bethlehem offers a couple of excellent golf courses to practice their swing amidst the picturesque mountain backdrop. The Bethlehem Country Club is a beautiful 18-hole course that provides a challenging yet enjoyable experience for players of all skill levels. With well-maintained fairways and stunning views, golfing at Bethlehem Country Club is a delightful way to spend a day outdoors. Another nearby option is the Maplewood Golf Resort, which offers an 18-hole course surrounded by scenic landscapes, making it a favorite among locals and visitors alike.
Public Parks:
In addition to its natural beauty, Bethlehem boasts several public parks where visitors and residents can relax and enjoy the great outdoors. The Rocks Estate and Christmas Tree Farm is not only known for its annual Christmas tree harvest but also offers walking trails, picnic areas, and stunning views of the surrounding mountains. The town also maintains various smaller parks equipped with playgrounds, sports fields, and picnic spots, providing ample opportunities for outdoor recreation and family outings.
Annual Events:
Throughout the year, Bethlehem hosts a variety of exciting events that bring the community together and attract visitors from near and far. One of the most anticipated events is the Bethlehem ArtWalk, where local artists showcase their work in various galleries and venues throughout the town. The ArtWalk provides a unique opportunity to appreciate and support the thriving arts scene in Bethlehem. Additionally, the Bethlehem Strawberry Festival celebrates the arrival of summer with delicious strawberry treats, live music, and family-friendly activities. The festival embodies the town's warm community spirit and is a favorite among both locals and tourists.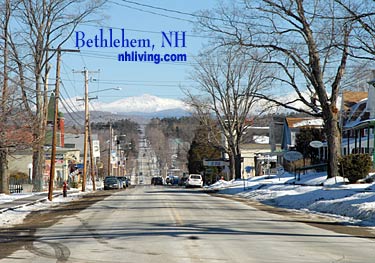 Guide to Life and Bethlehem NH Living:
Living in Bethlehem means embracing a tight-knit community and an active, outdoor lifestyle. Residents can enjoy year-round activities, such as skiing, snowboarding, hiking, fishing, and more. The town hosts various events and festivals, fostering a sense of camaraderie among its residents. With its stunning natural surroundings, friendly locals, and peaceful atmosphere, Bethlehem offers a quality of life that is truly unique.
Bethlehem, New Hampshire, stands as a testament to the beauty of small-town living and the allure of the White Mountains. Its rich history, thriving real estate market, stunning hikes, points of interest, and vibrant community make it a destination worth exploring. Whether you're looking for a weekend getaway or a place to call home, Bethlehem's charm and natural wonders are sure to captivate you at every turn. Whether you're a golf enthusiast looking to tee off against stunning mountain views, seeking relaxation in public parks, or interested in immersing yourself in the vibrant local culture through annual events, Bethlehem has something for everyone. With its charming atmosphere, welcoming community, and abundance of outdoor activities, Bethlehem is truly a gem within the White Mountains.
SHOP BETHELHEM NH GIFTS

| Photo | Title | Price | Buy |
| --- | --- | --- | --- |
| | Bethlehem New Hampshire NH vintage State Athletic style Pullover Hoodie | $29.99 | ON SALE NOW |
| | Live Free or Die New Hampshire T Shirt Live Free or Die NH | $19.99 | ON SALE NOW |
| | New Hampshire T-Shirt, US State Travel Vacation Shirts NH US | $19.99 | ON SALE NOW |
| | New Hampshire Hoodie. Vintage New Hampshire Sweatshirt Retro | $32.98 | ON SALE NOW |
| | City of Bethlehem New Hampshire | NH Novelty Merch Gift - Zip Hoodie | $33.99 | ON SALE NOW |
| | City of Bethlehem New Hampshire | NH Novelty Merch Gift - Pullover Hoodie | $32.99 | ON SALE NOW |
| | Bethlehem New Hampshire NH vintage State Athletic style Pullover Hoodie | $29.99 | ON SALE NOW |
| | ArtDirect Bethlehem New Hampshire - Norris 1883 44x36 Huge Gallery Wrapped Canvas Museum Art by Norris | $299.99 | ON SALE NOW |
| | Bethlehem New Hampshire Bethlehem NH Retro Vintage Text Pullover Hoodie | $39.99 | ON SALE NOW |
| | New Hampshire Maps - 1982 Bethlehem, NH - USGS Historical Topographic Wall Art - 69in x 44in | $299.99 | ON SALE NOW |
| | ArtDirect Hermann Valentin Von Holst 24x17 Black Modern Framed and Double Matted Art Print Titled Glamis, George Macbeth Country House, Bethlehem, New Hampshire, Perspective | $104.99 | ON SALE NOW |
| | Maps Of The Past - Historical Map of Bethlehem New Hampshire - Norris 1883-23.00 in x 27.82 in - Matte Canvas | $94.95 | ON SALE NOW |
| | Totally Bamboo Destination New Hampshire State Shaped Serving and Cutting Board, Includes Hang Tie for Wall Display | $29.99 | ON SALE NOW |
inns | hotels | resorts | rentals | attractions | dining | real estate
NH Lodging Guide | Weddings
Products | NH Town Guides
New England Living Magazine
Free World Mall

Country Weddings | New England Recipes
NH Inns | Boston Red Sox Gifts | Travel Destinations