Chesterfield, New Hampshire 03443
Chesterfield, NH Lodging, Dining, Real Estate & History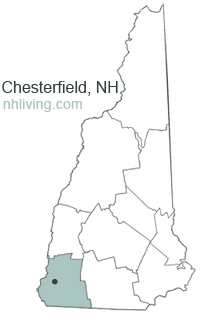 Welcome to scenic and historic Chesterfield, New Hampshire. Established in 1735, this town was the site of Fort Number 1 in the line of forts bordering the Connecticut River and was later known as Fort Dummer. The town was incorporated in 1752 as Chesterfield, after Philip Stanhope, the fourth Earl of Chesterfield.

Chesterfield Inn, 20 Cross Road, Chesterfield, NH 03466
The Chesterfield Inn is a warm, welcoming Bed and Breakfast Inn in the Monadnock Region of New Hampshire. We specialize in personal service and comfort. Enjoy our delicious country breakfast, cooked to order, with homemade muffins made from scratch each morning. Our romantic candlelit dining room is the perfect place for dinner with a menu of fresh, local food that changes with the seasons. Most guest rooms have fireplaces, pretty views and six rooms are pet friendly. The inn is the perfect place for an intimate wedding.
Visit Chesterfield Inn
---
Chesterfield includes the village of West Chesterfield, Spofford, and Spofford Lake. Part of Pisgah State Park is located here, as is Chesterfield Gorge.
The Chesterfield NH town offices are located on Rt. 63, just south of Rt. 9.
Chesterfield is the home of the Chesterfield Inn, which provides inn lodging and dining.
To share your Chesterfield, NH information with us, please contact us. Learn more about advertising in NHLiving.
Chesterfield, NH: A Quaint New England Town with a Rich Tapestry of History and Natural Beauty
Chesterfield, New Hampshire, is a picturesque town located in the southwestern part of the state, known for its charming New England character and stunning landscapes. Steeped in history, this tight-knit community offers a unique blend of old-world charm and modern amenities.
History of Chesterfield: Chesterfield's history dates back to the mid-18th century when it was first settled by pioneers in search of fertile land. Originally part of the town of Westmoreland, Chesterfield was incorporated as a separate town in 1752. Its name is said to be inspired by Lord Chesterfield, a prominent English statesman of that era. The town grew steadily with agriculture, small-scale industries, and the establishment of sawmills and gristmills. Its historical heritage is evident in the well-preserved colonial architecture that still graces the town today.
Local Businesses: Chesterfield takes pride in its local businesses that contribute to the town's vibrant economy and sense of community. Visitors and residents alike can enjoy exploring a variety of shops, art galleries, antique stores, inns, and restaurants, all offering unique products and experiences.
Attractions: Chesterfield offers a range of attractions that cater to diverse interests:
Pisgah State Park: A true gem for nature enthusiasts, Pisgah State Park covers over 13,000 acres and features an extensive network of hiking trails, picnic areas, and scenic overlooks.
Chesterfield Gorge Natural Area: This stunning gorge is carved by Wilde Brook and offers opportunities for hiking and photography.
Chesterfield Inn: A historic inn with charming accommodations, renowned dining, and warm hospitality, making it a favorite destination for visitors.
Spofford Lake: This pristine lake provides opportunities for swimming, boating, fishing, and picnicking along its shores.
Villages, Districts, and Neighborhoods: Chesterfield consists of several distinct villages and neighborhoods:
Chesterfield Village: The heart of the town, Chesterfield Village is a quintessential New England village featuring a picturesque common and historical building.
Spofford Village: Located near Spofford Lake, this village offers a peaceful lakeside setting with a blend of residential and recreational properties.
West Chesterfield: A charming rural area with a mix of residential properties, farmland, and natural beauty.
Parks, Recreation Areas, Hikes, and Historic Sites: Chesterfield's natural beauty and recreational opportunities are abundant:
Pisgah State Park Hiking Trails: The park's extensive trail system offers hikers of all levels a chance to explore its woodlands and mountainous terrain.
Chesterfield Gorge Trail: A short and scenic hike leading to the gorge, offering stunning views of the rushing water.
Fort No. 4 State Historic Site: This reconstructed historical site offers a glimpse into the colonial past, complete with demonstrations and exhibits.
Real Estate Values and Options: Chesterfield's real estate market provides a diverse range of properties, from historic colonial homes to contemporary houses and rural retreats. The town's picturesque landscapes and recreational opportunities make it an attractive destination for those seeking a peaceful, rural lifestyle. Real estate values have shown steady growth over the years, reflecting the desirability of living in this charming New Hampshire town.
Opportunities: Chesterfield presents numerous opportunities for both residents and businesses. The town's close-knit community fosters a supportive environment for entrepreneurs and creative ventures. Additionally, its proximity to larger towns and cities offers access to a variety of employment opportunities in neighboring areas.
Spofford Lake and Recreation: Spofford Lake, with its clear waters and sandy shores, is a beloved spot for recreational activities. Residents and visitors enjoy swimming, boating, kayaking, and fishing, as well as picnicking in the lakeside parks.
Employment: While Chesterfield provides a serene lifestyle, employment opportunities can be found within the town itself and in neighboring communities. Industries such as agriculture, small businesses, healthcare, and education contribute to the local economy.
Town Offices: Chesterfield's town offices are located at [Insert Address]. The dedicated town staff provides essential services and valuable information to residents and visitors, ensuring a well-functioning community.
Quality of Life and Chesterfield NH Living: Chesterfield's quality of life is characterized by its natural beauty, a strong sense of community, and historical heritage. Residents enjoy a tranquil lifestyle amidst breathtaking landscapes, and the town's commitment to preserving its history and natural resources creates a welcoming and attractive environment. With low crime rates, excellent schools, and a range of recreational opportunities, Chesterfield offers an exceptional quality of life for all its residents.
Chesterfield, New Hampshire, is a hidden gem that combines a rich historical past with a modern and vibrant community. With its picturesque villages, stunning natural attractions, recreational opportunities, and diverse real estate options, Chesterfield offers a unique living experience. Whether you're seeking a serene retreat, entrepreneurial opportunities, or a family-friendly community, Chesterfield has it all. Experience the timeless beauty and warm hospitality of this charming New England town in the heart of southwestern New Hampshire.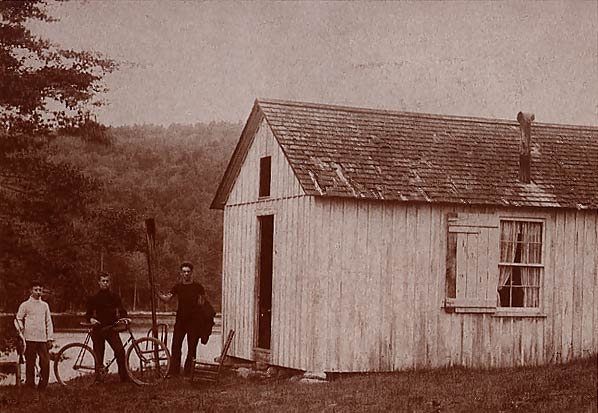 Incorporated: 1752
County: Cheshire
Chesterfield, NH Population:
2010: 3,604
GPS Coordinates:
Latitude: 42.5314
Longitude: -72.2813
Chesterfield, NH Local Information
Chesterfield Police Dispatch: 911
inns | hotels | resorts | rentals | attractions | dining | real estate
NH Lodging Guide | Weddings
Products | NH Town Guides
New England Living Magazine
Free World Mall

Country Weddings | New England Recipes
NH Inns | Boston Red Sox Gifts | Travel Destinations