Concord, New Hampshire 03303
Concord, NH Lodging, Real Estate, Dining & Visitor Information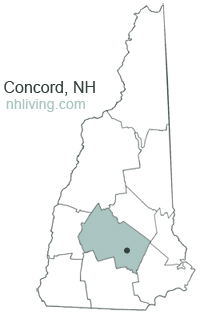 Welcome to Concord, New Hampshire. Concord is the vibrant State Capitol of New Hampshire. Downtown Concord features the New Hampshire Golden-Domed Capitol Building and various State of New Hampshire Government, Museums and offices.
History of Concord, NH
The first settlement in 1659 was named Penacook, for the Indian name 'Pannukog,' meaning crooked place or bend in the river. The first land grant was in 1725, and the town was incorporated as Rumford in 1733. The name was changed to Concord in 1765 upon the resolution of a bitter boundary dispute between Rumford and Bow. Concord became the New Hampshire state capital in 1808.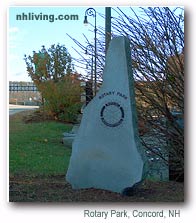 The New Hampshire State House, built in 1818 and first occupied in 1819, is the oldest in continuous use in the country. In 1853, the State granted Concord a city charter. It was in Concord that the Abbotts built the famous Concord Coach, modeled after King George III's coronation coach. In 1849, C. Austin, of Concord, was granted a patent for a melodeon, a small reed organ that produces music through a bellows operated by a treadle that draws air through reeds.
Discover Concord, New Hampshire: A Rich Blend of History and Modern Living
Welcome to Concord, New Hampshire, a city that effortlessly blends historical charm with modern convenience. Situated in Merrimack County, Concord is not only the capital of the state but also a vibrant community offering a plethora of attractions, businesses, and a high quality of life. From its captivating history to its scenic landscapes and diverse neighborhoods, there's something for everyone to explore and enjoy in Concord.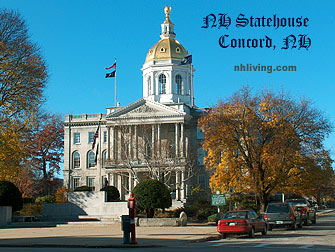 Concord, New Hampshire: A Glimpse into the Past
Concord's history dates back to the early colonial era. The city was officially incorporated in 1733. It played a crucial role in the American Revolutionary War, serving as a hub for the state's government and military operations. The New Hampshire State House, located in downtown Concord, is the oldest state capitol in which the legislature meets in its original chambers.
Local Businesses: Thriving Economy and Innovation
Concord boasts a diverse economy with a mix of industries, including healthcare, education, manufacturing, and technology. The city fosters a supportive environment for both startups and established businesses, making it an ideal place for entrepreneurs to flourish. The downtown area is lined with boutique shops, restaurants, and cafes that provide a unique shopping and dining experience.
Villages, Districts, and Neighborhoods: A Tapestry of Communities
Concord is made up of several distinct neighborhoods and villages, each with its own character and charm. From the historic South End to the more suburban West Concord, residents can choose the ambiance that suits their preferences. The Heights and Penacook neighborhoods offer a mix of housing options, and East Concord is known for its spacious rural properties.
Concord Parks, Recreation Areas, and Hikes: Nature at Your Doorstep
Nature enthusiasts will find plenty to explore in and around Concord. White Park offers a picturesque setting for picnics and outdoor activities, while Rollins Park features sports facilities and playgrounds. For hiking enthusiasts, Mount Kearsarge and the nearby Winslow State Park offer breathtaking views and well-maintained trails.
Historic Sites and Places of Interest: Immerse Yourself in the Past
Concord is rich with historic sites that offer a glimpse into its past. The Canterbury Shaker Village is a popular NH attraction and is just a short drive away, showcasing 200 years of Shaker history and culture. The Pierce Manse, the former home of President Franklin Pierce, provides insight into mid-19th-century life. The McAuliffe-Shepard Discovery Center celebrates New Hampshire's contributions to space exploration.
Concord NH Real Estate Values and Options: Housing to Suit Every Lifestyle
Concord offers a wide range of housing options to accommodate various lifestyles and budgets. From charming historic homes in the South End to contemporary apartments in downtown Concord, there's something for everyone. The Concord NH real estate market has remained stable, making it an attractive destination for both first-time homebuyers and those seeking to invest in property.
Town Offices and Contacts: Accessible Governance
Concord's town offices are conveniently located within the city. The City Hall, located at 41 Green Street, is where residents can access various municipal services, including permits, licenses, and information about local government activities.
Famous People from Concord, NH: A Legacy of Achievement
Concord has been the birthplace or residence of several notable individuals. These include Franklin Pierce, the 14th President of the United States, astronaut Alan Shepard, author Dan Brown, and Pulitzer Prize-winning poet Robert Frost.
Concord, NH Lodging: Where Comfort Meets Hospitality
Whether you're a visitor or a resident hosting friends and family, Concord offers a range of lodging options. From cozy bed and breakfasts to modern hotels, you'll find accommodations that provide comfort and convenience.
Quality of Life and Concord, NH Living: A Community to Call Home
Concord's quality of life is second to none. The city's blend of rich history, cultural amenities, and outdoor recreation opportunities creates a balanced and fulfilling lifestyle. With strong community bonds and a commitment to education, healthcare, and sustainability, Concord provides an environment where residents can thrive.
Concord, New Hampshire, is a city that seamlessly marries its storied past with its vibrant present. From its historic sites to its thriving businesses, natural beauty, and a strong sense of community, Concord offers a lifestyle that is both enriching and rewarding. Whether you're seeking history, nature, culture, or modern living, Concord has it all.
To share your Concord, NH information, contact us.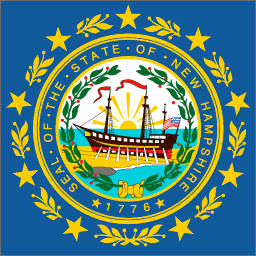 Incorporated: 1733
County: Merrimack
Concord, NH Population:
2010: 42,695
GPS Coordinates:
Latitude: 43.1224
Longitude: -71.3217
Concord, NH Local Information
Concord Police Dispatch: 911
inns | hotels | resorts | rentals | attractions | dining | real estate
SHOP CONCORD NH GIFTS

| Photo | Title | Price | Buy |
| --- | --- | --- | --- |
| | Concord Hoodie Sweatshirt College University Style NH USA. | $38.99 | ON SALE NOW |
| | Concord New Hampshire Souvenirs Retro NH T-Shirt | $19.99 | ON SALE NOW |
| | College University Varsity Style Concord New Hampshire NH T-Shirt | $19.99 | ON SALE NOW |
| | University of New Hampshire Blanket, 50"x60" Logo Pattern Silky Touch Sherpa Back Super Soft Throw Blanket | $46.99 | ON SALE NOW |
| | New Hampshire NH T-Shirt Vintage Retro 70s Graphic Tee | $16.99 | ON SALE NOW |
| | Totally Bamboo Destination New Hampshire State Shaped Serving and Cutting Board, Includes Hang Tie for Wall Display | $29.99 | ON SALE NOW |
| | PinMart New Hampshire Shape Flag Lapel Pin – Complete United States of America Pin Set – Gold Plated Enamel US State Shirt Pins – Great Commemorative/Promotional Gift | $8.99 | ON SALE NOW |
| | New Hampshire The Granite State: New Hampshire State Nickname Hardcover Notebook Journal (State Nicknames) | $15.24 | ON SALE NOW |
| | New Hampshire State Outline Beer Can Pint Glass - State Themed Drinking Decor and Gifts for New Hampshirite Women & Men - 16 Oz Glasses | $19.95 | ON SALE NOW |
| | Granite State New Hampshire Live Free Or Die Souvenir Gift T-Shirt | $19.98 | ON SALE NOW |
| | New Hampshire - Poetry of Robert Frost - Illustrated and Annotated Version | $4.99 | ON SALE NOW |
| | Doraloko Throw Pillow Cover 12x20 Set of 2, New Hampshire Decor Gift Souvenir, American Flag License Plate Lumbar Pillowcase, Greetings from The Granite State(NH, USA) - Cushion Case Sham, No Inserts | $12.80 ($6.40 / Count) | ON SALE NOW |
| | New Hampshire Six-Piece State Magnet Set by Classic Magnets, Includes 6 Unique Designs, Collectible Souvenirs Made in The USA | $22.99 | ON SALE NOW |
| | New Hampshire Est. 1788 The Granite State Zip Hoodie | $32.90 | ON SALE NOW |
| | Retro New Hampshire T-shirt Vintage Athletic Sports Design | $16.99 | ON SALE NOW |
| | New Hampshire The Granite State Est. 1788 Mountains Gift Tank Top | $17.90 | ON SALE NOW |
| | Annin Flagmakers New Hampshire State Flag USA-Made to Official State Design Specifications, 4 x 6 Feet (Model 143470) | $63.25 | ON SALE NOW |
| | GentleGirl.USA New Hampshire State Flag NH Flag, Small Mini New Hampshire State Flag Desk Flag Stick Office Table Flag on Stand Base, US Festival Events Celebration Decoration,Desk Home Decoration | $11.55 | ON SALE NOW |
NH Lodging Guide | Weddings
Products | NH Town Guides
New England Living Magazine
Free World Mall

Country Weddings | New England Recipes
NH Inns | Boston Red Sox Gifts | Travel Destinations