Jackson, New Hampshire 03846
Jackson, NH Lodging, Dining, Real Estate, History & Visitor Information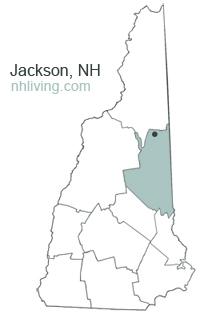 Welcome to scenic Jackson, New Hampshire.
Early settlers of Jackson, New Hampshire came from Madbury. The town was originally called New Madbury. At the time of incorporation (December 4, 1800), the name was changed to Adams in honor of President John Adams. In 1829 the name was changed again, this time to Jackson. The name change was motivated in response to the election of President Andrew Jackson, the hero of the Battle of New Orleans. The popularity of President Jackson is reflected in that only one vote was cast for keeping Adams as the name.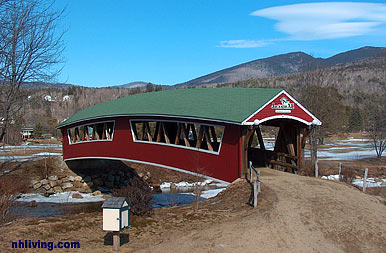 In the mid-1800s, Jackson was a popular destination for artists arriving by coach to capture the scenic beauty of the area. Hotels were built to accommodate visitors. In 1876, the covered bridge that spans the Ellis River was built by Charles Austin Broughton and his son Frank. At that time it was named the "Honeymoon Bridge". Local custom has carried on a romantic tradition with many newly married couples having their photograph taken there. That tradition continues even today. Jackson's Covered Bridge, a Paddleford truss construction, is one of 55 remaining.
Although many of the grand hotels of Jackson are now gone, the splendor of this New Hampshire Village remains. Visitors come year-round to enjoy the views of the Ellis River, Jackson Covered Bridge, white steeple church, waterfalls, mountains, hiking trails, skiing, and rolling farmland.


Wildcat Inn & Tavern, Rte 16A, Jackson Village NH 03846 | 603-383-4245
Through the Jackson covered bridge is a place that just might be perfect... a place where candle light dances and the love and laughter of a hundred years of happy travelers is as rich as the wide pine floors. We invite you to take a step back in time. Come prepared to laugh, love, and smile so hard you might just cry. After all, as brilliant stars twinkle in the clear night sky... you just might find that the Wildcat is almost perfect. Lunch, Dinner, Entertainment in the Tavern.
Visit Wildcat Inn & Tavern - Jackson Village, NH
---


Inn at Ellis River House B&B Inn, 17 Harriman Road, Jackson, NH 03846 | 603-383-9339
Enchanting Country Inn offering "Romance & Rejuvenation" on the river in the heart of the White Mountains. 20 rooms and cottage are beautifully appointed with period and modern amenities. Many have Jacuzzis for two and/or balconies, most have fireplaces. Gourmet country breakfast and afternoon refreshments included. Enjoy the cozy game room/pub, hot tub, sauna, and outdoor heated pool. Relax, re-discover lifes simple pleasures, hike, fish, golf nearby, cross country or downhill ski, outlet shop and more. Let the Inn at Ellis River rejuvenate your spirits!
Visit Inn at Ellis River - Jackson. NH
---
Welcome to Jackson, New Hampshire: A Charming Gem in the White Mountains
Nestled in the heart of the White Mountains, Jackson, New Hampshire, is a picturesque town known for its stunning natural beauty, rich history, and welcoming community.
History of Jackson, NH
Jackson's history dates back to the early 19th century when it was first settled by pioneers. The town was officially incorporated in 1800 and was named after President Andrew Jackson. Throughout the years, Jackson has retained its historic charm, with many 19th-century buildings still standing. The Jackson Covered Bridge, a symbol of the town's heritage, is a must-see attraction.
Local Jackson NH Businesses and Major Employers
Jackson boasts a vibrant local business community, ranging from charming boutiques to art galleries and outdoor outfitters. The town's major employers include hospitality establishments, outdoor adventure companies, and small businesses that thrive in the tourism-driven economy.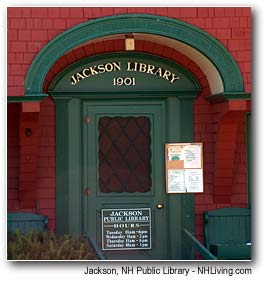 Villages, Districts, and Neighborhoods
Jackson is comprised of several distinct villages and neighborhoods, each with its own unique character. Among them are Jackson Village, with its historic architecture and charming shops, and the peaceful neighborhoods surrounding the Wentworth Golf Course.
Jackson Parks and Recreation Areas
The natural beauty of Jackson and its surroundings is a haven for outdoor enthusiasts. You can explore the White Mountain National Forest, which offers an array of recreational opportunities such as hiking, skiing, snowmobiling, and wildlife watching. Echo Lake State Park is a local favorite for swimming and picnicking during the warmer months.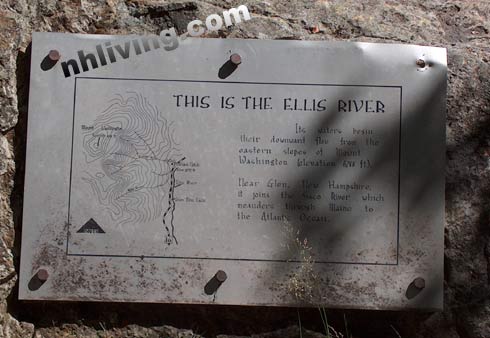 Hikes and Historic Sites
Jackson is a paradise for hikers, with numerous trails catering to all skill levels. Some popular options for your White Mountain hike include the Black Mountain Trail, Jackson Falls, and the challenging Tuckerman Ravine Trail. Historic sites like the Jackson Historical Society and the Museum of White Mountain Art at Jackson highlight the town's rich heritage.
Places of Interest
In addition to natural beauty, Jackson offers several unique places of interest. The Jackson Covered Bridge, dating back to 1876, is an iconic spot for photos and relaxation. The Wildcat Tavern and the Inn at Ellis River are renowned for their warm hospitality and historic significance.
NH Real Estate Values and Options
Jackson's real estate market offers a range of options, from historic homes and charming cottages to modern mountain retreats. The town's real estate values have been steadily appreciating due to its desirability as both a vacation destination and a place to call home.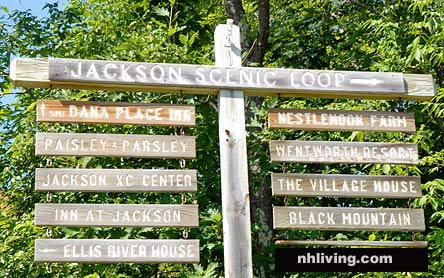 Jackson NHTown Offices and Services
For residents and visitors, the town offices in Jackson provide essential services. The address and phone number are as follows:
Jackson Town Hall
54 Main Street
Jackson, NH 03846
Phone: (603) 383-4223
Lodging and Dining
Whether you're seeking a cozy bed and breakfast, a luxury inn, or a vacation rental, Jackson offers exceptional lodging options. The Inn at Ellis River and the Wildcat Inn & Tavern are popular choices for visitors seeking a memorable stay. Dining in Jackson is equally delightful, with a variety of restaurants serving everything from locally sourced cuisine to international fare.
Quality of Life in Jackson, NH
Jackson offers an exceptional quality of life, blending small-town charm with outdoor adventures. Residents and visitors alike enjoy a sense of community, stunning natural surroundings, and an abundance of recreational activities. With a strong commitment to preserving its history and environment, Jackson, NH, stands out as a welcoming and vibrant destination for those seeking a unique mountain experience.
Jackson, New Hampshire, is a town that captures the essence of New England charm and natural beauty. From its rich history to its thriving business community, outdoor activities, and quality of life, Jackson offers a diverse array of experiences for all who visit or choose to call it home. Whether you're exploring its historic sites, hiking its trails, enjoying live music at Wildcat Tavern, your stay at the Inn at Ellis River, or simply relaxing by the covered bridge, Jackson is a place where memories are made and cherished.
To share your Jackson, NH business information with us, contact us. Learn more about advertising in NHLiving.
Incorporated: 1829
County: Carroll
Jackson, NH Population:
2010: 816
GPS Coordinates:
Latitude: 44.0845
Longitude: -71.1051
Jackson, NH Local Information
Jackson Police Dispatch: 911
inns | hotels | resorts | rentals | attractions | dining | real estate
SHOP JACKSON NH GIFTS

| Photo | Title | Price | Buy |
| --- | --- | --- | --- |
| | Totally Bamboo Destination New Hampshire State Shaped Serving and Cutting Board, Includes Hang Tie for Wall Display | $29.99 | ON SALE NOW |
| | It's a Jackson Thing Shirt Vintage Distressed Jackson Shirt | $19.99 | ON SALE NOW |
| | GSPY Scented Candle - Thank You Gifts for Women, Men - Daycare Teacher Gifts, Nanny Gifts - Thank You Gift, Appreciation, Christmas Gifts for Teacher, Daycare Provider, Babysitter, Mom, Mentor | | ON SALE NOW |
| | New Hampshire Jumbo State Magnet by Classic Magnets, 2.6" x 4.7", Collectible Souvenirs Made in The USA | $8.99 | ON SALE NOW |
| | New Hampshire NH T-Shirt Vintage Retro 70s Graphic Tee | $16.99 | ON SALE NOW |
| | New Hampshire T-Shirt, US State Travel Vacation Shirts NH US | $19.99 | ON SALE NOW |
| | I Heart Love NH New Hampshire T-shirt Retro Souvenir Gift | $16.95 | ON SALE NOW |
NH Lodging Guide | Weddings
Products | NH Town Guides
New England Living Magazine
Free World Mall

Country Weddings | New England Recipes
NH Inns | Boston Red Sox Gifts | Travel Destinations