Walpole, New Hampshire 03608
Walpole, NH Lodging, Real Estate, Travel & Visitor Information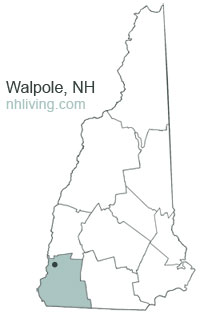 Welcome to Walpole, New Hampshire – a charming town located in Cheshire County, known for its stunning natural beauty, rich history, and friendly community. Whether you're a history buff, a nature lover, or a foodie, Walpole has something to offer everyone. In this article, we will explore the history of Walpole, its housing options, restaurants and inns, places of interest, historic sites, and things to do.
Walpole, New Hampshire was settled as early as 1736 under the name of Great Falls or Lunenburg. The land for Walpole was not granted by New Hampshire until 1752 when it was named Bellowstown. Colonel Benjamin Bellows, for whom Bellows Falls, Vermont was named, built a large fort at Walpole for defense against Indian attack. In 1761 the grant was renewed, and the town was renamed Walpole, in honor of Sir Robert Walpole, the first Prime Minister of England.
American film director, and famous NH resident, Ken Burns lives in Walpole. Burns. Burns –  a famous New Hampshire personality, is known for his documentary productions: The Civil War (1990), Baseball (1994), Jazz (2001), The War (2007), The National Parks: America's Best Idea (2009), and Prohibition (2011).
Another famous person connected to Walpole is Doctor Horace Wells (January 21, 1815 – January 24, 1848) Born in nearby Vermont, Horace Wells was educated in Walpole and was a pioneer in the use of nitrous oxide or "laughing gas" in dentistry. A monument of Horace Wells is located in Bushnell Park, Hartford, CT.  Another famous NH person, Louisa May Alcott was a summer resident of Walpole. The Alcott book "Under The Lilacs" is said to be inspired by the town's abundance of purple-blue flowering bushes.


Great Falls Regional Chamber of Commerce, 17 Depot St., Bellows Falls, VT 05101 | 802-463-4280
The Greater Falls Regional Chamber of Commerce can help you with information on the Vermont Towns of Bellows Falls, Rockingham, Athens, Grafton, Putney, Saxton's River, and Westminster, along with the New Hampshire towns of Alstead, Charlestown, Walpole and North Walpole. Please visit this wonderful area of the Connecticut Valley for your next getaway.
Visit Greater Falls Regional Chamber of Commerce Website
---
Historic buildings in Walpole include Walpole Academy and the Walpole Public Library. The Walpole Academy was built in 1831 and attributed to master-builder Aaron Prentiss Howland. The building is listed on the National Register of Historic Places. Walpole's downtown "Burdick Chocolate" A Restaurant & Chocolatier, is a Cheshire County popular attraction and restaurant.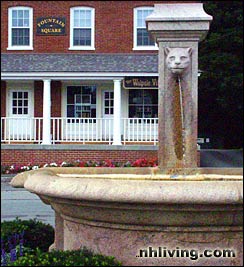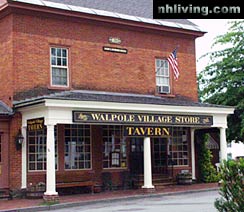 To share any Walpole, NH information with us, please contact us. Learn more about advertising in NHLiving.
Incorporated: 1756
County: Cheshire
Walpole, NH Population:
2010: 3,734
GPS Coordinates:
Latitude: 43.0446
Longitude: -72.2533
Walpole, NH Local Information
Walpole Police Dispatch: 911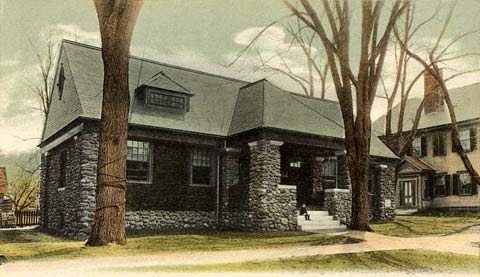 Walpole History
Walpole was first settled in 1736 and incorporated in 1752. It was named after Sir Robert Walpole, who was then the Prime Minister of Great Britain. The town played a significant role in the American Revolution, with many residents serving in the Continental Army. In the 19th century, Walpole became known for its thriving mills and factories, which produced textiles, paper, and shoes. Today, the town has preserved much of its historic architecture, including several buildings listed on the National Register of Historic Places.
Walpole Housing
Walpole offers a wide variety of housing options, from historic homes to modern apartments. The town is home to several beautiful neighborhoods, each with its own unique character. The housing market in Walpole is relatively affordable, with the median home value being around $250,000. Whether you're looking for a cozy cottage or a spacious family home, Walpole has something to offer.
Walpole Restaurants and Inns
Walpole boasts a thriving food scene, with several top-notch restaurants and inns. The Burdick Chocolate Cafe is a must-visit for chocolate lovers, with its delectable handmade truffles and pastries. The Walpole Inn offers a fine dining experience, with a menu featuring fresh, locally sourced ingredients. For a more casual meal, head to the Hungry Diner, a classic American diner serving up hearty breakfasts and lunch specials.
Places of Interest
One of the most beautiful places to visit in Walpole is the Walpole Mountain View Winery. The winery is located on a scenic hilltop, offering breathtaking views of the surrounding countryside. Visitors can enjoy a tasting of the winery's award-winning wines while taking in the stunning scenery. Another must-visit attraction in Walpole is the Fall Mountain Lookout Tower. The tower offers panoramic views of the Connecticut River Valley and the surrounding mountains. For nature lovers, the Walpole Town Forest is a great place to explore, with its miles of hiking trails and beautiful waterfalls.
Historic Sites
Walpole is home to several historic sites that offer a glimpse into the town's rich past. The Walpole Meeting House is one of the oldest and most significant buildings in the town, dating back to 1772. The building served as a gathering place for the town's residents, and it was also used as a church and a school. Another historic site worth visiting is the Hooper Golf Club, which was established in 1927. The club is home to a beautiful 9-hole golf course, as well as several historic buildings, including a farmhouse dating back to 1804.
Things to Do
Whether you're looking for outdoor adventures or cultural experiences, Walpole has plenty to offer. The town is home to several annual events, including the Walpole Old Home Days, a celebration of the town's history and heritage. For music lovers, the Walpole Valley Acoustic Music Festival is a must-attend event, featuring top-notch musicians from across the region. Other popular activities in Walpole include hiking, kayaking, and skiing.
In conclusion, Walpole, New Hampshire, is a beautiful town with a rich history, a thriving food scene, and plenty of attractions and activities for visitors. Whether you're planning a day trip or a longer stay, be sure to explore all that this charming town has to offer.
inns | hotels | resorts | rentals | attractions | dining | real estate
Walpole, NH Living Resources

Walpole, NH Airports
Walpole, NH Art Galleries
Walpole, NH Autos
Walpole, NH Camping
Walpole, NH Golfing
Walpole, NH Microbreweries
Walpole, NH Shopping
Walpole, NH Theaters
Walpole, NH Antiques
Walpole, NH Attorneys
Walpole, NH Classifieds
Walpole, NH Hiking
Walpole, NH Inns
Walpole, NH Museums
Walpole, NH Skiing
Walpole, NH Weather
Walpole, NH Apple Orchards
Walpole, NH Attractions
Walpole, NH Beaches
Walpole, NH Dining
Walpole, NH Hotels
Walpole, NH Radio Stations
Walpole, NH State Parks
NH Lodging Guide | Weddings
Products | NH Town Guides
NH HISTORY

| Photo | Title | Price | Buy |
| --- | --- | --- | --- |
| | A History of the New Hampshire Abenaki (American Heritage) | $11.49 | ON SALE NOW |
| | A Libertarian Walks Into a Bear: The Utopian Plot to Liberate an American Town (And Some Bears) | $12.99 | ON SALE NOW |
| | Hidden History of New Hampshire | $14.28 | ON SALE NOW |
| | Covered Bridges of New Hampshire | $37.15 | ON SALE NOW |
| | The Nature of New Hampshire: Natural Communities of the Granite State (UNH Non-Series Title) | $35.00 | ON SALE NOW |
| | Literary New Hampshire: A History & Guide | $21.49 | ON SALE NOW |
| | New Hampshire's Kancamagus Highway: A History and Guide (History & Guide) | $23.99 | ON SALE NOW |
| | Live Free or Die New Hampshire T-Shirt | $19.99 | ON SALE NOW |
| | New Hampshire Varsity Style Navy Blue Text Pullover Hoodie | $39.99 | ON SALE NOW |
| | Mt. Washington: Among the Clouds-An Early History:1852-1908 | $17.95 | ON SALE NOW |
| | Totally Bamboo Destination New Hampshire State Shaped Serving and Cutting Board, Includes Hang Tie for Wall Display | $29.99 | ON SALE NOW |
| | Live Free or Die Retro New Hampshire Nature Hoodie | $31.98 | ON SALE NOW |
| | Homesick Premium Scented Candle, New Hampshire - Scents of Apple Cider, Clove, Amber, 13.75 oz, 60-80 Hour Burn, Natural Soy Blend Candle Home Decor, Relaxing Aromatherapy Candle | | ON SALE NOW |
| | New Hampshire State Retro Vintage T-Shirt | $19.99 | ON SALE NOW |
| | HISTORIX Vintage 1796 State of New Hampshire Map Poster - 24x36 Inch Vintage Map of New Hampshire Wall Art - New Hampshire Vintage Poster - Map of NH Poster - New Hampshire Wall Decor | $59.99 | ON SALE NOW |
| | Growing Up in Concord, New Hampshire: Boomer Memories from White's Park to the Capitol Theater (No Series (Generic)) | $20.99 | ON SALE NOW |
| | New Hampshire Live Free or Die product Pullover Hoodie | $31.99 | ON SALE NOW |
| | A Time Before New Hampshire: The Story of a Land and Native Peoples | $27.95 | ON SALE NOW |
| | Retro New Hampshire T-shirt Vintage Athletic Sports Design | $16.99 | ON SALE NOW |
| | New Hampshire and the Revolutionary War (Military) | $21.99 | ON SALE NOW |
New England Living Magazine
Free World Mall

Country Weddings | New England Recipes
NH Inns | Boston Red Sox Gifts | Travel Destinations