Visit Littleton NH
Littleton, NH Inns, Hotels, Restaurants & Attractions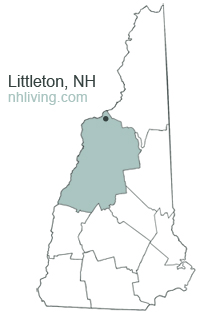 Littleton New Hampshire is fast becoming a popular White Mountain destination – and with the amount of things-to-do and see it is no wonder.  Main Street Littleton is a busy place with a nice collection of one-of-a-kind stores, boutiques and shops. Browse downtown Littleton – or better yet stay right downtown at the historic Thayer's Inn. The Thayer's Inn is looking better than ever with fresh siding and a fabulous restaurant called Grille One Eleven. It's located on the first level of the building.
Littleton NH Lodging
The Littleton area offers a wide range of lodging options. There are several motels and motor inns including the Littleton Motel – which calls itself the oldest in the state. There's also a Hampton Inn & Suites located near I-93. Our suggestion is the Thayer's Inn or try browsing the White Mountain inns or Littleton NH area hotels located nearby.
Littleton NH Restaurants
You will enjoy the local Thai Restaurant – Chang Thai has a loyal following due to the consistent high-quality lunch and dinner specialties the restaurant has been serving for several years now. Authentic and cooked to order – Chang Thai is a must for lunch or dinner during your Littleton NH visit.
Include Me shortcode: file not found
Grille One Eleven is a good choice for lunch or dinner. This downtown Littleton favorite offers dinner special worth checking out. The Seafood Alfredo is a menu item that includes shrimp, lobster, and scallops, sautéed and tossed with the chef's Alfredo sauce over a bed of linguini and served with a side salad – just amazing. There's a lighter fare menu, wings and other apps and a killer burger. Friendly, full-service bar and talented bartenders.
The Littleton Diner has a nationwide reputation and is located on the east end of Main Street across from the Littleton Post Office. Famous for stone ground pancakes – try the diner for breakfast, lunch or dinner. Littleton is lucky enough to have two 7 day a week diners on Main Street. Chef Denny's Topic of the Town has been feeding visitors and hosting an annual Thanksgiving meal for the community for decades. Try the diner's homemade soups, lunch and dinner specials and Mid Eastern fare. On a budget? Check out the daily Blue Plate Special.
Other Littleton NH restaurant choices include; Schilling Beer Company on Mill Street, Miller's Cafe, Gold House of Pizza, Beal House Inn, The Coffee Pot and Balliwick's – all located within a short walk from the Littleton Post Office downtown.
Littleton Attractions
A visit to the Littleton Farmer's Market is great way to shop local. You'll find a nice collection of local farm products and some very talented craftspeople selling things like handmade earrings, cutting boards, socks, sweaters and more. The Littleton Farmer's Market is held every Sunday morning just beside the Ammonoosuc River – look for the signs on Cottage Street just off the east end of Main Street. Littleton is a good choice for your White Mountain Adventures – there's an amazing selection of White Mountain Attractions all within an hours drive.
Littleton NH Living
If you're thinking about moving to Littleton New Hampshire consider contact a local Littleton NH Real Estate Agent. The Littleton Real  Estate Market is vibrant and a local realty agent can supply you with current Littleton MLS listings and market trends.  For more information about the town visit our Littleton, NH town page.
Littleton NH History
In the late 1700's Littleton was part of Lisbon and was known as Chiswick – "cheese farm in Old English". Apthorp was the original name of the new town – named in honor of  George Apthorp, a wealthy Boston, MA merchant. In 1798, the Littleton Grist Mill began operation. You can visit the Mill today – it's been fully restored to its original appearance. Find the Littleton Grist Mill in the River District. Littleton's River District is a revitalization project for Littleton.
Littleton NH Events
Pollyanna Glad Days Celebration is a joyous day of being happy. The famous Pollyanna was written by Eleanor H. Porter (1868 – 1920) who lived in during her early childhood. The bronze statue of her creation was unveiled in 2002. View it today in downtown Littleton in front of the Littleton Public Library on Main Street.  Other popular Littleton NH Events include an annual fishing derby at Moore Lake Reservoir, Lions Fall Foliage Parade & Car Show, Christmas Parade and others. Check the NH Living event calendar for local events.
Include Me shortcode: file not found


rek'•lis brewing company, 2085 Main Street, Bethlehem, NH 03574 | 603-991-2357
Tiny brewery, big beers! Enjoy Craft IPA's, Great Food, Entertainment, Special Events. Check the website for specials. Thursday night Trivia. The never ending quest to quench the 'thirst', whether it's on a bike, skis, or in a glass. This it where the passion comes from, it's what rek'•lis is, this is us, and now it's you... .
Visit rek'•lis brewing company - Bethlehem, NH
---


Badger, Peabody & Smith Realty | 1-603-823-6700
New Hampshire, Western Maine & Eastern Vermont Real Estate Services. With eight conveniently located offices, we offer full-service real estate services to the Great North Woods, Mt. Washington Valley, White Mountains, Central, Lakes Region, and the Upper Valley. In addition, we specialize in the Northeast Kingdom of Vermont and Western Maine. We also have a team dedicated to commercial real estate. If you are looking for commercial lease space in Plymouth, a development opportunity in Littleton, a hospitality property for sale in North Conway, or a business opportunity in Berlin, we can assist. Visit our website to view listings.
Badger Peabody Smith Realty
---
inns | hotels | resorts | rentals | attractions | dining | real estate
NH Lodging Guide | Weddings
Products | NH Town Guides
New England Living Magazine
Free World Mall

Country Weddings | New England Recipes
NH Inns | Boston Red Sox Gifts | Travel Destinations