Bethlehem NH's Christmas Stamp
A Unique Touch For Your Holiday Cards

Originally named Lloyd's Hills in 1774, the little White Mountain town of Bethlehem NH was incorporated with it's current name on the last Christmas Day of the 18th century. With that in mind, it's rather fitting that today's Bethlehem has a myriad of holiday festivities throughout the winter months. With two cut-your own Christmas tree farms at Rock Estate and Finnegan's Firs, craft fairs, tree-lighting ceremonies and sleigh rides – Bethlehem comes alive during the holiday season. Ask us about visiting Bethlehem NH or share your comments. To feature your NH business, contact us.
Christmas Cards from Bethlehem New Hampshire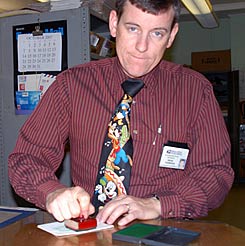 Perhaps most unique of the holiday traditions offered by Bethlehem is the hand-cancelling of Christmas cards. This rural Post Office estimates it handles over 56,000 Christmas cards from all over the world each year.
If you would like to add more flair to your Christmas greetings, there are two ways to go about it; bring the cards yourself or send them in. Multiple hand cancellation stamps are available for your use in the Post Office's main lobby, shortly after Thanksgiving each year.
If you are unable to bring your cards to Bethlehem yourself, simply address, seal and plasce postage stamps on the envelopes containing your greetings and place them in a larger envelope.
Send this envelope to the attention of "Christmas Re-Mailing", Bethlehem Post Office, Bethlehem, NH 03574. To ensure delivery in time for Christmas, your items should be received no later than December 15th.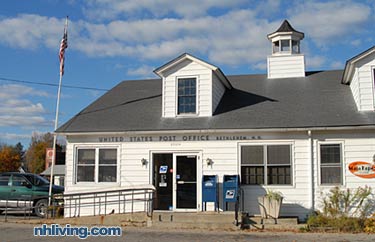 inns | hotels | resorts | rentals | attractions | dining | real estate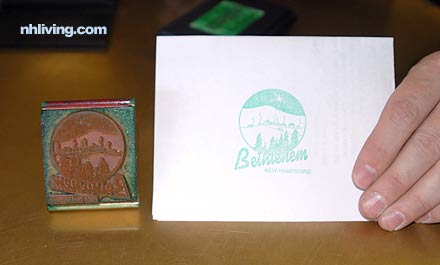 rek'•lis brewing company, 2085 Main Street, Bethlehem, NH 03574 | 603-991-2357
Tiny brewery, big beers! Enjoy Craft IPA's, Great Food, Entertainment, Special Events. Check the website for specials. Thursday night Trivia. The never ending quest to quench the 'thirst', whether it's on a bike, skis, or in a glass. This it where the passion comes from, it's what rek'•lis is, this is us, and now it's you... .
Visit rek'•lis brewing company - Bethlehem, NH
---
NH Lodging Guide | Weddings
Products | NH Town Guides
New England Living Magazine
Free World Mall

Country Weddings | New England Recipes
NH Inns | Boston Red Sox Gifts | Travel Destinations