NH Art History Sports & Heritage Museums

Visit a New Hampshire Museum to gain a wealth of knowledge and view some amazing collections of art and history. Learn about skiing and snowmobiling, the American Revolution, or the history of the Granite State itself. The Strawbery Banke Museum in Portsmouth attracts historians and families from all over the globe.
NH offers unique art museums, history, transportation, and doll museums like no other. To feature your local business, contact us.
Exploring the Rich Heritage: A Guide to New Hampshire Museums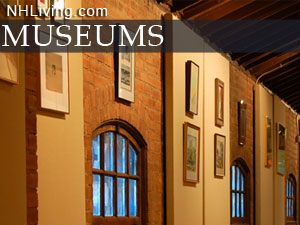 New Hampshire, known for its stunning natural beauty and rich history, is home to a wide array of museums that offer captivating insights into the state's cultural heritage. From art and history to science and technology, New Hampshire museums provide visitors with an immersive experience.
Currier Museum of Art (Manchester):
Located in Manchester, the Currier Museum of Art showcases a diverse collection of American and European art. It features paintings, sculptures, decorative arts, and photographs, spanning over 3,000 years of artistic expression.
Strawbery Banke Museum (Portsmouth):
Situated in Portsmouth, the Strawbery Banke Museum is an outdoor history museum that preserves and presents four centuries of New England history. Visitors can explore restored homes, interact with costumed interpreters, and gain insights into the daily life of the past.
McAuliffe-Shepard Discovery Center (Concord):
Dedicated to the memory of Christa McAuliffe, the teacher-astronaut who tragically died in the Challenger Space Shuttle disaster, the McAuliffe-Shepard Discovery Center in Concord offers interactive exhibits, planetarium shows, and educational programs focused on space science and aviation.
American Independence Museum (Exeter):
Situated in Exeter, the American Independence Museum presents the rich history of American independence and the role New Hampshire played in the Revolutionary War. It features exhibitions, historic artifacts, and guided tours of the Ladd-Gilman House and Folsom Tavern.
New Hampshire Historical Society (Concord):
The New Hampshire Historical Society, located in Concord, is dedicated to preserving and sharing the history of the state. The museum offers engaging exhibits, educational programs, and an extensive library and archives for research enthusiasts.
Canterbury Shaker Village (Canterbury):
A unique living history museum, the Canterbury Shaker Village in Canterbury provides visitors with a glimpse into the communal lifestyle and craftsmanship of the Shakers. Explore beautifully preserved buildings, exhibits, and learn about the Shakers' philosophy of simplicity and craftsmanship.
Museum of the White Mountains (Plymouth):
Located on the campus of Plymouth State University, the Museum of the White Mountains celebrates the culture, history, and environment of the White Mountains region. Through exhibits, art, and educational programs, visitors gain a deeper understanding of this iconic New Hampshire landscape.
Aviation Museum of New Hampshire (Londonderry):
Dedicated to preserving and sharing the Granite State's aviation history, the Aviation Museum of New Hampshire in Londonderry features aircraft displays, artifacts, and interactive exhibits. Visitors can explore the evolution of aviation and learn about the contributions of New Hampshire aviators.
Planning a New Hampshire Museum Tour:
To plan an efficient and enjoyable New Hampshire Museum Tour, consider the following tips:
Research: Visit nhliving.com/museums/ for detailed information, including addresses, opening hours, and admission fees of various New Hampshire museums.
Group Similar Museums: Group museums based on their location to optimize travel time and explore museums in the same region on the same day.
Create an Itinerary: Make a list of the museums you wish to visit, plan the order of your visits, and allocate sufficient time for each museum.
Check for Special Exhibits or Events: Keep an eye out for special exhibits, events, or guided tours offered by the museums during your visit.
Consider Membership: If you plan to visit multiple museums, consider purchasing a museum membership to save money on admission fees and enjoy additional benefits.
A visit to New Hampshire museums is an enriching and educational experience, offering a deep dive into the state's history, art, culture, and scientific achievements. From the renowned Currier Museum of Art to the immersive Strawbery Banke Museum, each museum provides a unique perspective on the diverse heritage of New Hampshire. By planning your museum tour carefully and taking advantage of the resources available, here at https://nhliving.com, you can make the most of your time and create lasting memories while exploring these captivating institutions. So, pack your curiosity and embark on a journey through New Hampshire's fascinating past and vibrant present through its exceptional museums.
Great North Woods NH Museums
Berlin, Colebrook, Errol, Dixville, Lancaster, Pittsburg
White Mountain NH Museums
North Conway, Lincoln, Woodstock, Littleton, Franconia, Gorham, Jackson, Sugar Hill, Whitefield, Waterville Valley
Lakes Region NH Museums
Laconia, Rochester, Plymouth, Ossipee, Meredith, Ashland, Wolfeboro, Bristol, Winnipesaukee
Dartmouth Lake Sunapee NH Museums
Lebanon, Hanover, Claremont, Newport, Tilton, Lyme, Plainfield, Newport
Monadnock NH Museums
Keene, Peterborough, Fitzwilliam, Westmoreland, Chesterfield
Merrimack Valley NH Museums
Manchester, Concord, Nashua, Salem, Derry, New London, Merrimack, Loudon
Seacoast NH Museums
Portsmouth, Dover, Durham, Hampton, Exeter, Rye, Hampton Beach
NH Lodging Guide | Weddings
Products | NH Town Guides


Polly's Pancake Parlor, 672 Route 17, Sugar Hill, NH 03585 | 603-823-5575
Polly's Pancake Parlor has been serving yummy home cooked meals for over 75 years. Enjoy a stack of Oatmeal Buttermilk, Buckwheat or Whole Wheat pancakes. Sit back and savor a waffle of your choice smothered in real New Hampshire maple syrup or come for lunch and have a slice of quiche made with local Harman's cheese. Shop for gifts, pancake mixes and NH Maple Syrup. Reservations taken on weekends.
Visit Polly's Pancake Parlor - Sugar Hill
---


Mystic Sugar Bakery, 2386 White Mountain Highway, North Conway, NH 03860 | 603-383-3067
Mystic Sugar Bakery specializes in hand-crafted treats made from high-quality, fresh, seasonal, and local products whenever possible. Mystic Sugar Bakery is the lifelong dream and creation of Proprietor Christy Skinner. Originally from Virginia Beach, Christy has spent her life traveling the United States exploring the sweet regional variations on culinary classics, only to add her own touch to these timeless treats. Inquire about Special Orders.
Visit Mystic Sugar Bakery - North Conway, NH
---


Sandy Martin Gallery, 17 Bay Street, Wolfeboro, NH 03894 | 603-569-9890
The Sandy Martin Gallery offers original fine art oil and watercolor paintings, photography, bronze sculpture, and hand crafted jewelry. Browse this destination fine art gallery in the beautiful Lake Winnipesaukee town of Wolfeboro. Shop for original oil paintings, watercolors, photographs, custom prints, and bronze sculputure depicting the beauty of the New Hampshire Lakes Region by the artists who love it.
Visit Sandy Martin Art - Wolfeboro, NH
---
Free World Mall

Country Weddings | New England Recipes
NH Inns | Boston Red Sox Gifts | Travel Destinations