Sugar Hill, New Hampshire 03586
Sugar Hill, NH Inns, Real Estate, Attraction, History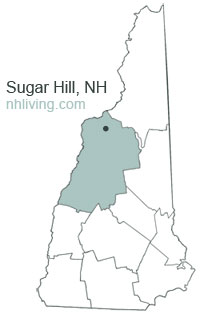 The picturesque town of Sugar Hill, New Hampshire is both historical and New Hampshire's youngest, incorporated town.
Sugar Hill, NH was incorporated in 1962. After considerable litigation, it was carved out of Lisbon to be an independent voting unit. The name Sugar Hill comes from a large grove of sugar maples in the hills. Sugar Hill is a popular vacation destination. The Sunset Hill House, Sugar Hill Inn, and other lodging establishments are located here. White Mountain attractions The Sugar Hill Sampler, Polly's Pancake Parlor, Harman's Country Store, and the Frost House are all located in scenic Sugar Hill.
To share your Sugar Hill, NH information with us, please contact us.


Polly's Pancake Parlor, 672 Route 17, Sugar Hill, NH 03585 | 603-823-5575
Polly's Pancake Parlor has been serving yummy home cooked meals for over 75 years. Enjoy a stack of Oatmeal Buttermilk, Buckwheat or Whole Wheat pancakes. Sit back and savor a waffle of your choice smothered in real New Hampshire maple syrup or come for lunch and have a slice of quiche made with local Harman's cheese. Shop for gifts, pancake mixes and NH Maple Syrup. Reservations taken on weekends.
Visit Polly's Pancake Parlor - Sugar Hill
---


Sugar Hill Inn, 116 Scenic Route 117, Sugar Hill Road, Sugar Hill, NH 03586 | 603-823-5621
Nestled into the hillside on 16 acres of woodlands, rolling lawns and well-tended gardens, you will find the beauty and tranquility of New Hampshire's White Mountains. The Sugar Hill Inn is a perfect place to relax, rejuvenate and re-discover lifes simple pleasures. A place where romance is virtually guaranteed. 5- star dining.
Visit Sugar Hill Inn - Sugar Hill, NH
---


Franconia Inn, 1300 Easton Rd., Franconia, NH 03580 | 603-823-5542
"In the Land of Big Mountains and Small Villages." Nestled in the heart of the beautiful White Mountains of New Hampshire, The Franconia Inn is a full service country inn, where casual elegance and exquisite cuisine are just waiting to welcome you.†Please visit our website for more information.
Visit Franconia Inn - Franconia, NH
---
Discovering the Charm of Sugar Hill, New Hampshire: A Haven of Natural Beauty and Tranquility
Nestled in the heart of New Hampshire's White Mountains, Sugar Hill is a picturesque town renowned for its breathtaking natural scenery, rich history, and warm community spirit. From its captivating landscapes to its vibrant real estate options and numerous attractions, Sugar Hill offers an idyllic setting for both residents and visitors alike.
Sugar Hill History:
Sugar Hill's history dates back to the 18th century when settlers first established farms in the area. The town's name originated from the abundance of sugar maples that grew in the region, providing ample maple sap for syrup production. Over the years, the community grew and developed around agriculture, logging, and tourism, with the town officially incorporated in 1962. Today, Sugar Hill embraces its past while embracing modern amenities, creating a harmonious blend of old-world charm and contemporary living.
Sugar Hill Real Estate Options, Values, and Neighborhoods:
Sugar Hill offers a diverse range of real estate options that cater to various preferences and budgets. The town features an array of charming homes, from historic farmhouses to modern residences, many of which boast stunning views of the surrounding mountains and valleys. Whether you're seeking a quaint countryside cottage or a spacious family home, Sugar Hill has something to suit every taste. The real estate market in Sugar Hill has remained strong, with property values steadily appreciating due to the town's desirability and limited supply.
Sugar Hill NH Neighborhoods include:
The Village Center: Situated in the heart of town, the Village Center features a mix of residential and commercial properties, providing residents with convenient access to local amenities, shops, and dining establishments.
Sunset Hill: Located on the western side of Sugar Hill, the Sunset Hill neighborhood offers breathtaking panoramic views of the White Mountains. It is known for its upscale homes and elegant bed and breakfasts, attracting those seeking luxury living in a serene environment.
Sugar Hill East: This neighborhood showcases a combination of historic and newer homes, providing a charming and friendly community atmosphere. With its proximity to recreational areas and outdoor activities, it appeals to nature enthusiasts and families alike.
Sugar Hill Vacations:
Sugar Hill is a popular destination for those seeking a peaceful and rejuvenating vacation. Visitors can immerse themselves in the tranquility of the surrounding natural beauty, enjoy outdoor activities like hiking and fishing, and indulge in the town's warm hospitality. The town offers a range of accommodations, including quaint bed and breakfasts, cozy cottages, and charming inns. Whether you're looking for a romantic getaway or a family adventure, Sugar Hill provides an ideal backdrop for creating lasting memories.
Historic Sites and Cultural Gems:
Sugar Hill boasts several historic sites that offer a glimpse into its rich heritage. The Sunset Hill House, a grand hotel dating back to the 1800s, stands as a testament to the town's historic significance. This architectural gem has hosted notable figures throughout history and continues to welcome guests to this day. Additionally, the Sugar Hill Historical Museum showcases artifacts and exhibits that tell the story of the town's past, providing visitors with a deeper appreciation for its heritage.
Polly's Pancake Parlor:
No visit to Sugar Hill would be complete without a trip to Polly's Pancake Parlor, a beloved local institution. Serving up delicious and hearty breakfasts since 1938, Polly's offers a mouthwatering selection of make in NH products, pancakes, including their famous maple syrup and homemade whipped cream. With its charming rustic ambiance and friendly service, Polly's Pancake Parlor is a must-visit destination for both locals and tourists alike.
Sugar Hill's Natural Areas and Hiking:
Nature enthusiasts will find themselves in paradise in Sugar Hill. The town is surrounded by breathtaking natural areas, including the White Mountain National Forest, Franconia Notch State Park, and Cannon Mountain. These areas offer an abundance of hiking trails, from leisurely strolls to challenging mountain climbs. The renowned Franconia Ridge Trail rewards hikers with panoramic views of the region's stunning landscapes, including the iconic Mount Lafayette.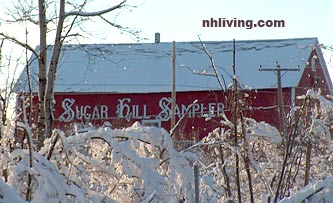 Attractions and Activities:
Sugar Hill offers a wealth of attractions and activities to enjoy. The Sugar Hill Sampler is a delightful shop where visitors can peruse local crafts, artisanal products, and souvenirs. The nearby Sugar Hill Scenic Vista offers a spectacular vantage point to admire the rolling hills and mountains, especially during the vibrant autumn foliage season. For those seeking cultural experiences, the Sugar Hill Meetinghouse hosts concerts and performances that showcase the talents of local artists and musicians.
Sugar Hill NH Living:
Living in Sugar Hill provides residents with a peaceful and close-knit community lifestyle. The town's strong sense of community is evident in its numerous events and festivals, including the annual Lupine Festival, which celebrates the blooming of these vibrant flowers. The community actively supports local businesses and encourages sustainable practices, fostering a sustainable and environmentally conscious way of life.
Sugar Hill, New Hampshire, with its rich history, stunning natural beauty, and warm community spirit, is a hidden gem worth exploring. From its diverse real estate options to its enchanting vacation experiences, the town offers a unique blend of tranquility and adventure. With its charming historic sites, renowned dining establishments like Sugar Hill Inn, Polly's Pancake Parlor, and abundant outdoor recreational opportunities, Sugar Hill captivates the hearts of residents and visitors alike. Whether you're seeking a serene escape or a place to call home, Sugar Hill is an inviting destination that promises an enriching and fulfilling experience. Discovering the Charm of Sugar Hill, New Hampshire: A Haven of Natural Beauty and Tranquility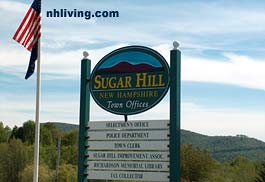 Incorporated: 1962
County: Grafton
Sugar Hill, NH Population:
2010: 563
GPS Coordinates:
Latitude: 44.1255
Longitude: -71.4758
Sugar Hill, NH Local Information
Sugar Hill Police Dispatch: 911
inns | hotels | resorts | rentals | attractions | dining | real estate
NH Lodging Guide | Weddings
Products | NH Town Guides
New England Living Magazine
Free World Mall

Country Weddings | New England Recipes
NH Inns | Boston Red Sox Gifts | Travel Destinations