NH Public Transportation
NH Trains Bus Services & Tranportation Services

To fully view all New Hampshire has to offer you'll need your own vehicle or hire a NH Transportation Service Company or Limo. This rural northern New England does offer some public transportation services, but options for public transportation can be limited. Bus Service is available in most New Hampshire cities. Many smaller towns are not serviced by public transportation other than a local taxi service. Follow the links below for more information about NH Transportation Services. Ask us about NH transportation or share comments. To feature your business, contact us.
New Hampshire Public Transportation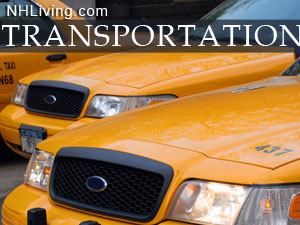 Car Rentals – Auto Leasing
New Hampshire Car Rentals | NH Auto Lease Deals
Airline Service To New Hampshire
New Hampshire Commercial Airports | NH Airplane Landing Strips
New Hampshire Auto Rental Agencies
New Hampshire Railroad Stations
New Hampshire Scenic Train rides
New Hampshire by Bus
New Hampshire by Car
New Hampshire Driving and Road Conditions
Did we miss something? Add your update or comment.
NH Lodging Picks | Weddings
Products | NH Town Guides
New England Living Magazine
Free World Mall

Country Weddings | New England Recipes
VT Inns | Red Sox Gifts | Travel Destinations