NH Public Transportation
NH Trains Bus Services & Transportation Services

To fully view all New Hampshire has to offer you'll need your own vehicle or hire an NH Transportation Service Company or Limo. This rural northern New England does offer some public transportation services, but options for public transportation can be limited. Bus Service is available in most New Hampshire cities. Many smaller towns are not serviced by public transportation other than a local taxi service.
New Hampshire Transportation
Navigating New Hampshire: A Guide to NH Public Transportation Options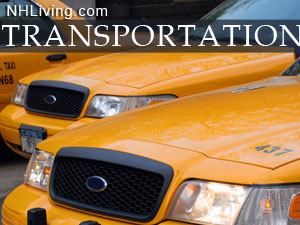 New Hampshire, known for its picturesque landscapes and vibrant communities, offers a range of public transportation options to meet the diverse needs of residents and visitors. Whether you're a commuter, a tourist, or someone looking for a convenient way to get around the Granite State, you'll find a variety of choices that can make your journey smooth and efficient. The public transportation services available in New Hampshire, include public bus services, private bus services, local ride-shares, state transportation services, ride-shares, private limo services, taxis, and Uber.
Public Bus Services
New Hampshire's public bus services provide a reliable and cost-effective way to travel within the state. The New Hampshire Department of Transportation (NHDOT) operates several intercity and regional bus routes connecting major cities and towns. Key services include:
Concord Area Transit (CAT): CAT offers fixed-route bus services in Concord and the surrounding areas, making it easier for residents to commute within the state capital.
Manchester Transit Authority (MTA): MTA serves the greater Manchester area with multiple bus routes, ensuring convenient access to various neighborhoods and attractions.
Nashua Transit System: Nashua's bus system offers local transportation options, connecting the city's residents to essential destinations.
Private Bus Services
In addition to public bus services, several private bus companies operate in New Hampshire. These companies offer intercity and regional bus routes, providing transportation options to neighboring states like Massachusetts and Vermont. Private bus services often offer more flexibility in terms of routes and schedules, catering to specific travel needs.
Local Ride-Shares
Local ride-share services are becoming increasingly popular in New Hampshire, offering convenient transportation options within cities and towns. Local ride-share platforms connect passengers with nearby drivers who use their personal vehicles to provide rides. These services often offer competitive pricing and shorter wait times, making them a valuable addition to New Hampshire's transportation landscape.
State Transportation Services
The New Hampshire Department of Transportation (NHDOT) plays a crucial role in maintaining and improving the state's transportation infrastructure. This includes maintaining roads and bridges, managing transportation planning, and providing information to travelers. NHDOT's website offers valuable resources, such as real-time traffic updates and road construction information, helping residents and visitors plan their journeys efficiently.
Ride-Share Services
Popular ride-share services like Uber and Lyft are readily available in New Hampshire's major cities, including Manchester, Nashua, and Concord. These services offer on-demand transportation at the touch of a button, making it easy to get around without needing to own a car. Ride-share services are particularly convenient for travelers who prefer the flexibility of choosing their destinations and schedules.
Private Limo Services
For those seeking a touch of luxury or special transportation for events and occasions, private limo services are available in New Hampshire. These services offer comfortable and stylish transportation, whether you're attending a wedding, prom, or just want to explore the state in style.
Taxi Services
Traditional taxi services continue to serve as a reliable mode of transportation in many parts of New Hampshire. Taxis are readily available at transportation hubs, hotels,
Train Services
New Hampshire's rail network is an essential part of its public transportation infrastructure, connecting the state with neighboring regions. Amtrak's Downeaster service operates between Boston, Massachusetts, and Portland, Maine, with multiple stops in New Hampshire. This train service offers a comfortable and scenic way to explore the state, making stops in Dover, Durham, and Exeter, among other destinations.
Rural Transportation
While many public transportation services are concentrated in urban areas, rural parts of New Hampshire also have options to meet their unique transportation needs. The state's rural transportation services, often operated by local agencies, provide vital connections for residents in remote areas. These services include demand-responsive buses, community shuttles, and vanpool programs, ensuring that even those living outside major cities have access to reliable transportation.
Portsmouth Public Transportation
The city of Portsmouth, situated along the state's beautiful coastline, offers its residents and visitors a variety of public transportation options:
Coast Bus: The Cooperative Alliance for Seacoast Transportation (Coast) operates a comprehensive bus network in the Seacoast region, including Portsmouth. Coast Bus services provide an excellent way to explore the coastal towns, visit historic sites, and commute within the city.
Trolley Services: During the tourist season, Portsmouth offers trolley services that run through the city, making it easy for tourists to visit popular attractions, waterfront restaurants, and shopping districts.
NH Public Transportation by Region
New Hampshire's public transportation services are organized by region, ensuring that residents and visitors can access transportation options tailored to their specific needs:
Southern New Hampshire: This region, which includes cities like Manchester and Nashua, boasts a robust public bus network operated by organizations like the Manchester Transit Authority (MTA) and Nashua Transit System.
Lakes Region: The Lakes Region offers transportation services that help residents and tourists explore the area's scenic lakes and mountains. Various bus services and taxis are available.
White Mountains: In the heart of New Hampshire's White Mountains, you can find transportation services that cater to outdoor enthusiasts. These services include shuttle buses to trailheads and recreational areas.
North Country: The more remote North Country or Great North Woods region offers transportation solutions, including rural transit options, for residents who rely on public transportation to access essential services.
Car Rentals – Auto Leasing
New Hampshire Car Rentals | NH Auto Lease Deals
Airline Service To New Hampshire
New Hampshire Commercial Airports | NH Airplane Landing Strips
New Hampshire Auto Rental Agencies
New Hampshire Railroad Stations
New Hampshire by Bus
New Hampshire by Car
New Hampshire Driving and Road Conditions
NH Lodging Guide | Weddings
Products | NH Town Guides
New England Living Magazine
Free World Mall

Country Weddings | New England Recipes
NH Inns | Boston Red Sox Gifts | Travel Destinations