New Hampshire State History

New Hampshire State history is truly fascinating. New Hampshire's earliest inhabitants were the Native Americans. Mostly hunters and gatherers migrated throughout New England seasonally depending upon where the most food would be. The two most predominant tribes that resided in New Hampshire were the Abenaki and the Pennacook. To feature your NH business in NHLiving.com, contact us.
History of the State of New Hampshire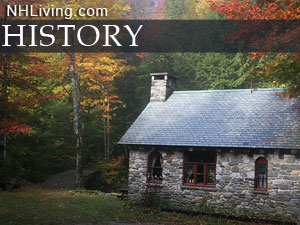 In the 1500s Europeans started exploring along the coast of North America. In 1623 the first permanent European settlement was started in New Hampshire. During this period the majority of European settlements in New Hampshire were along the seacoast. The four main ports were Dover, Portsmouth, Exeter, and Hampton. These towns were originally part of Massachusetts but in 1680 become New Hampshire became its own province.
The seacoast prospered greatly due to the ports that existed there. New Hampshire's first capital was Portsmouth. The inland areas of New Hampshire were settled largely by farmers who cleared small plots of land and built one or two-story farmhouses. As time went on this divide grew larger. New Hampshire was kept from breaking apart due to the legislative sessions that were held, mostly in Concord New Hampshire.
New Hampshire's geography did not help the divide between the seacoast area and the rest of the state. Most of the rivers ran from north to south which in turn meant that roads and later railroads lead into Boston rather than Portsmouth. This meant that the majority of New Hampshire was affected far more by the activities in Boston than what was going on in Portsmouth. So, when Bostonians needed help during the Revolutionary War New Hampshire was there to offer aid.
New Hampshire's economy changed during the industrial revolution with the textile mills that sprung up along the Granite State's many beautiful rivers. Eventually the mills moved to the southern states and New Hampshire worked hard on attracting other businesses to the area such as shoe and technology manufacturing. While mills were on the rise the small family farms were on the decline because they could no longer compete with the farms in the midwest.
In the 1800's the railroads that were used to bring food from New Hampshire south to cities such as Boston and Portsmouth began bringing artists, scientists, and sightseers north to experience New Hampshire's beauty firsthand. By the early 1900s New Hampshire was drawing visitors from all over the world to its picturesque lakes and mountains in the summer. The winter attracts many to ski the majestic white mountains to this day.
NH History Gifts

| Photo | Title | Price | Buy |
| --- | --- | --- | --- |
| | A History of the New Hampshire Abenaki (American Heritage) | $11.49 | ON SALE NOW |
| | A Libertarian Walks Into a Bear: The Utopian Plot to Liberate an American Town (And Some Bears) | $12.99 | ON SALE NOW |
| | Hidden History of New Hampshire | $14.28 | ON SALE NOW |
| | Covered Bridges of New Hampshire | $39.95 | ON SALE NOW |
| | The Nature of New Hampshire: Natural Communities of the Granite State (UNH Non-Series Title) | $35.00 | ON SALE NOW |
| | Literary New Hampshire: A History & Guide | $23.99 | ON SALE NOW |
| | New Hampshire's Kancamagus Highway: A History and Guide (History & Guide) | $23.99 | ON SALE NOW |
| | Live Free or Die New Hampshire T-Shirt | $19.99 | ON SALE NOW |
| | New Hampshire Varsity Style Navy Blue Text Pullover Hoodie | $39.99 | ON SALE NOW |
| | Mt. Washington: Among the Clouds-An Early History:1852-1908 | $17.95 | ON SALE NOW |
| | Totally Bamboo Destination New Hampshire State Shaped Serving and Cutting Board, Includes Hang Tie for Wall Display | $29.99 | ON SALE NOW |
| | Live Free or Die Retro New Hampshire Nature Hoodie | $31.98 | ON SALE NOW |
| | Homesick Premium Scented Candle, New Hampshire - Scents of Apple Cider, Clove, Amber, 13.75 oz, 60-80 Hour Burn, Natural Soy Blend Candle Home Decor, Relaxing Aromatherapy Candle | $38.00 | ON SALE NOW |
| | New Hampshire State Retro Vintage T-Shirt | $19.99 | ON SALE NOW |
| | HISTORIX Vintage 1796 State of New Hampshire Map Poster - 24x36 Inch Vintage Map of New Hampshire Wall Art - New Hampshire Vintage Poster - Map of NH Poster - New Hampshire Wall Decor | $49.99 | ON SALE NOW |
| | Growing Up in Concord, New Hampshire: Boomer Memories from White's Park to the Capitol Theater | $23.99 | ON SALE NOW |
| | New Hampshire Live Free or Die product Pullover Hoodie | $31.99 | ON SALE NOW |
| | A Time Before New Hampshire: The Story of a Land and Native Peoples | $27.95 | ON SALE NOW |
| | Retro New Hampshire T-shirt Vintage Athletic Sports Design | $16.99 | ON SALE NOW |
| | New Hampshire and the Revolutionary War (Military) | $19.99 | ON SALE NOW |
More about New Hampshire's Fascinating Past
NH Lodging Picks | Weddings
Products | NH Town Guides
Free World Mall

Country Weddings | New England Recipes
VT Inns | Red Sox Gifts | Travel Destinations